Netflix's "Iron Fist" misses the punch with viewers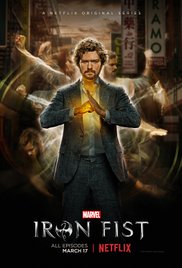 Hang on for a minute...we're trying to find some more stories you might like.
With a 14% on Rotten Tomatoes, Marvel's "Iron Fist" is not up to par with other Netflix superhero series. Main character Danny Rand, played by Finn Jones, has been missing from his hometown for around 15 years, being presumed dead. He uses his kung-fu ability and his Iron Fist to try to reconnect with his old legacy.
The series had potential but seemed to lack a main villain and conflict for the protagonist. Not only that, the action scenes convey the impression that it wasn't rehearsed and didn't have the same wow factor as many of Marvel's other scenes.
It often felt choppy, almost as if the actors and actresses were not given enough about their characters to give feedback and deliver the performance as needed. There were some details that were not necessary and didn't contribute to the story at all.
Although it had awful reviews, Marvel's "Iron Fist" did have a few things I enjoyed. Though a lot of people disagree with this, I believe Scott Buck, the creator of the show, made a good decision when casting Finn Jones as the lead. The majority of viewers excepted Danny Rand to be of Asian descent, after all he did spend a good deal of time training with them. But I don't think staying with them for 15 years would necessary change his appearance. Not to mention that was how it was in the original comics.
One of the characters, Colleen Wing, who is played by Jessica Henwick, enjoys playing her role, although she is aware that it is not for everyone.
"I think we've set up a nice foundation for the character in Iron Fist," Henwick tells  British Newspaper Independent. "It's been a pleasure continuing her story into The Defenders as well. I would love to keep playing her. Anyone could like it, but I don't think everyone could love it."
The series seemed to set up a second season near the end, but I'm unsure if it will be produced with such terrible reviews.
Although it has some redeeming qualities, I personally would not recommend it.