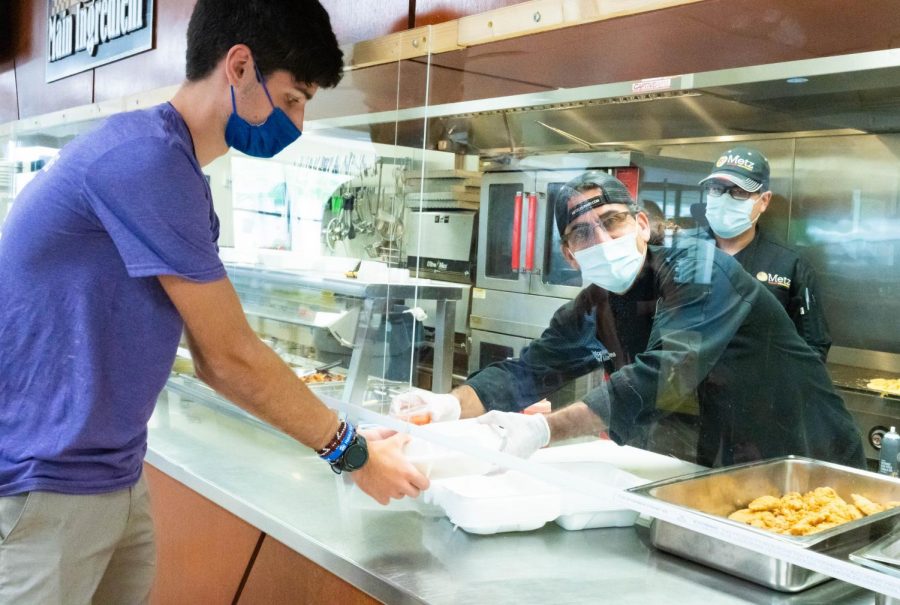 For years, students have crowded into the Grille to enjoy a vast selection of foods, whether it be a sandwich, a salad from the salad bar, or a new selection from the hot food line. However, like many things in the past year, the pandemic has changed this landscape.
Food Director Chris Behrens has had to implement new meal plans and cleaning protocols since the rise of COVID-19. Many things have changed including the mask that now covers Behrens' smiling face.
One of the adjustments made was getting rid of the salad bar and sandwich station. To keep the food service as sanitary as possible, these options are no longer available for students attending the Grille.
"Losing the salad bar was tough because a lot more people want healthier options," Behrens said.
Although Grille staff does anticipate a return to these stations sometime next year, it will be on a different scale. Behrens plans to implement a sandwich station behind the counter near the hot food line to prevent students from crowding around the station.
Behrens along with SousChef of Metz Culinary Management Jonathon Lugo have adopted new methods in serving students. 
The plexiglass along with wearing masks has made it difficult for Grille staff members to freely communicate with students. Lugo said that masks can make it hard to fulfill student requests.
"It's been kind of hard to hear people with this mask on," Lugo said, "This safety protocol is to keep us safe, but it's a little bit harder to do our job."
With the continued presence of COVID-19 cases, it is important that students and faculty members remain safe while purchasing food. Along with changes to food service, the Grille staff has also had to enact new cleaning protocols to prevent germs from spreading.
"We used to clean and disinfect everything, but now we have special disinfecting products we use to make sure everything is sanitized and disinfected," Lugo said.
Despite the many adjustments made to accommodate COVID-19, the Grille staff has worked hard to provide students with quality meals and service.
Even though you now have to stand in line six feet apart from your friends and try your best to speak through the plexiglass separating you and the Grille staff members, you can better understand their efforts adapting to these changes. Although you can't exactly see Behren's smile, you know it's there.