McWhorter seeks new career opportunities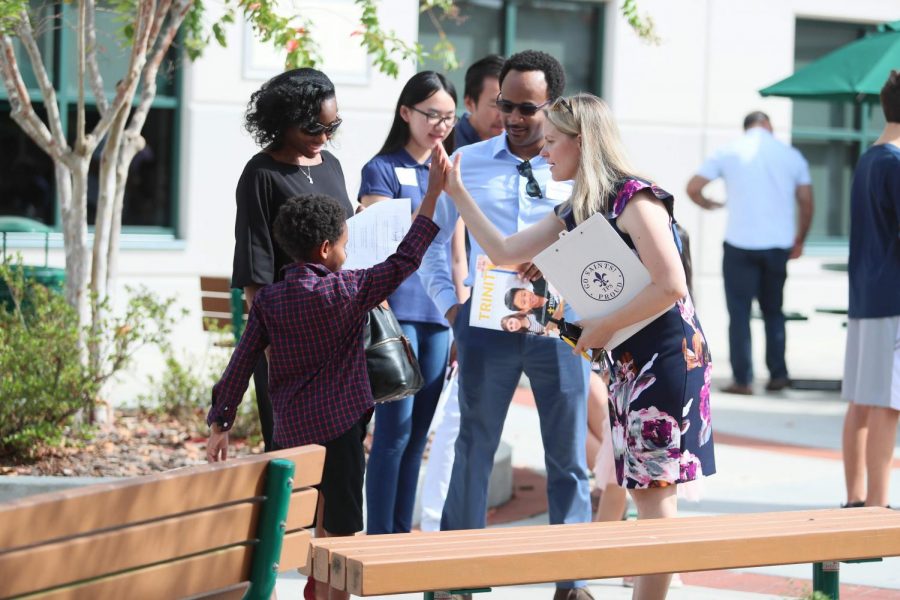 After eight years in admissions, the Director of Admission and Tuition Assistance Catherine McWhorter is leaving Trinity. 
   "Trinity has been such a wonderful experience," McWhorter said. "It's a close family, and I felt incredibly welcomed from the start." 
   McWhorter started as the Associate Director of Admissions in 2012, and in 2016, she became director. She also has the role of an advisor, having many advisories with grades spanning from eight through 12. 
   "This year, I had an 8th-grade advisory," McWhorter said. "It's really fun to have many age groups and see how they interact. It's also really nice to watch my advisees grow and graduate."
   As Admissions Director, McWhorter interviews and assists prospective students through the application process. 
   "I would say getting to know kids in the admissions process is special," McWhorter said. "For example, I first got to know them in 5th grade. They are sitting on my couch, nervous, and twisting their hands. Then, I get to see them graduate and see them grow into a tremendous person."
   When McWhorter leaves Trinity, she will be exploring new career opportunities. 
   "I have been in education for 12 years, and I know I will find my way back into independent schools down the road," McWhorter said. "I am taking my time to explore career opportunities right now."
   McWhorter said some of her best memories from Trinity were formed through the relationships between her colleagues and students.  
   "It comes down to the relationships and knowing my colleagues as more than colleagues," McWhorter said. "Knowing them as people and friends. Knowing their families. Knowing the students and having them come back and visit and filling me in on their lives."
   After working at Trinity for nearly a decade, McWhorter said some of her most significant accomplishments were working with her team building the future classes of students and her relationships with students and colleagues.
   "From faculty and staff to the students, it's going to be hard to leave and say goodbye," McWhorter said. "I'll really miss the friendships I formed. I'll keep in touch, but I will definitely miss seeing everyone every day."
About the Writer
GRACE BENEKE, MANAGING EDITOR
Grace Beneke is a senior entering her fourth year on The Trinity Voice as Managing Editor. Grace enjoys playing tennis, sailing and visiting Ireland. In...