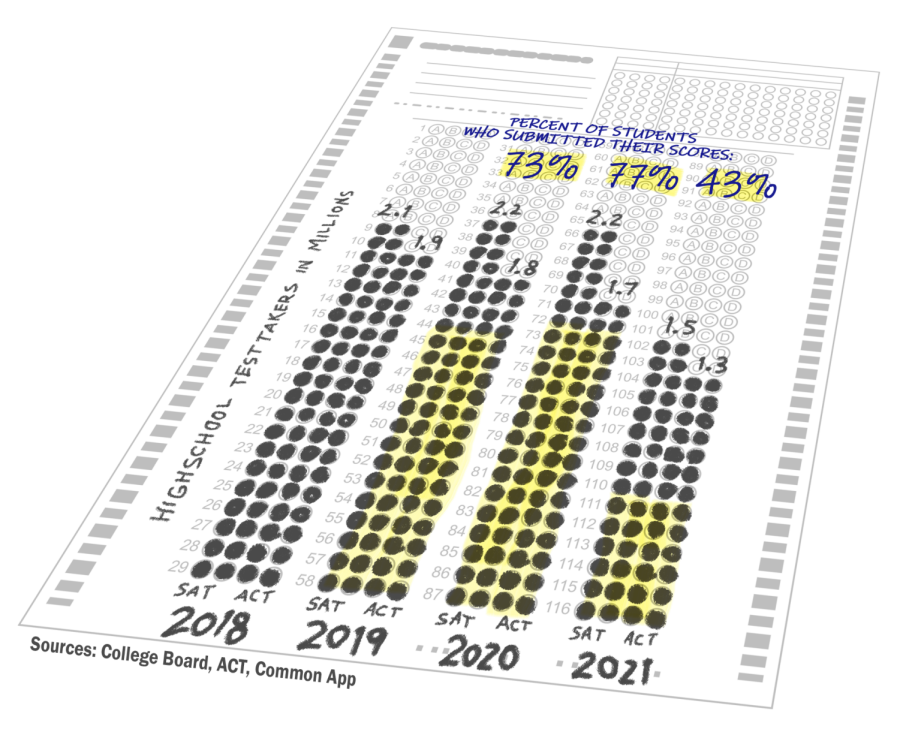 Jaidyn Holt
  As a result of the COVID-19 pandemic, the number of colleges and universities requiring standardized tests such as the SAT and ACT have dramatically decreased with the introduction of test-optional policies; an adjustment which has proven to better level the socioeconomic playing field. 
  To eventually make college admissions a more equitable process, higher learning institutions may consider phasing out standardized assessments completely since they provide an advantage to students who have the money and other means to perform well.
  For several years, researchers have observed a direct correlation between socioeconomic status and standardized test scores, finding that the higher a student's familial economic standing, the better their score.
  According to a Forbes 2021 analysis of college admissions exams, students with family incomes of $100,000 or more were more than twice as likely to have combined SAT test scores of 1400 to 1600, as opposed to their peers with family incomes of $50,000 or less who received significantly lower scores. 
  Despite self-guided study aids being relatively inexpensive and available to students through most online platforms, they are not as effective as private tutoring sessions such as The Princeton Review's SAT 1400+ and 1500+ sessions which cost upwards of $1,600. 
  Learning programs free of charge such as Khan Academy do exist and provide an alternative to expensive resources for exam prep, but are not as well known as other programs that require payment. 
  Incorporating free programs into the curriculum of schools with lower budgets may prove to be a small step towards lessening the test score gap on the socioeconomic scale.
  Substantial economic differences between school districts also prove to be key contributors to large score gaps as a result of funding disparities. 
  "If you live in a district with a poorly funded school it will affect the quality of your education, and therefore your ability to do well on standardized testing," college counselor Christine Grover said.
  Because of these financing gaps, wealthier children are more likely to attend high schools that will offer them an advantage in the college application and standardized testing processes.
  Wealthy children are also more likely to attend high schools with a large number of AP programs, have access to tutors, and have attended standardized test preparation classes, all of which have been linked to higher standardized test scores.
  These scores ultimately have a major impact on minority and low-income student's admissions at selective colleges and universities, particularly those requiring an average score of 1400 or more.
  Though flawed at the moment, the standardized testing system is a crucial component for most colleges to determine who they will be accepting as curriculums vary at every high school, reflected in a student's grade point average. 
  To make this system more equitable, changes must first be made in low-income school districts to provide accessibility to resources such as tutoring at little or no cost before a nation-wide test-optional system should be instituted.