Concerts to look forward to in April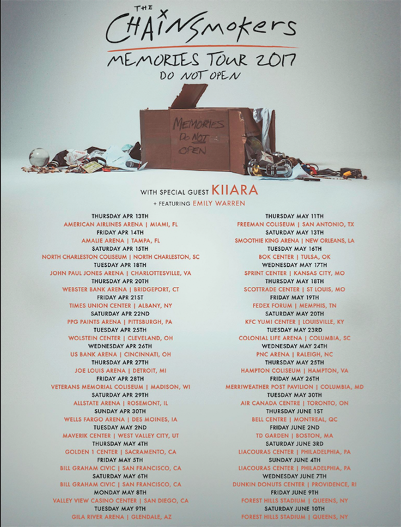 Hang on for a minute...we're trying to find some more stories you might like.
With only two months till the end of school, April is the perfect month to enjoy yourself before studying for exams in May. This April is going to be an awesome month for concerts in both Tampa and Orlando. With AP exams and school almost ending, these concerts are the perfect way to kick back, relax and just enjoy the music.
The Chainsmokers at Amalie Arena on April 14
    Releasing their first album on April 7, The Chainsmokers are going on their first worldwide tour starting in Miami on April 13. In the past year, they have released several hit songs like "Closer," Paris" and "Something Just Like This." The method behind the inspiration comes from two best friends, Alex Pall and Drew Taggart. Pall and Taggart show their love for music on stage and off. These two are a must see this month.
Ariana Grande at Amway Center on April 15
    Ariana Grande launched her career on the Nickelodeon TV show "Victorious." Since then she has released three albums and collaborated with several famous artists like Mac Miller, Nicki Minaj and The Weeknd. This is her second major tour stopping in Orlando. If you missed her in 2015, you now have the chance to see her hits "Into You," "Bang Bang" and "Side to Side."
Flo Rida at CFE Arena on April 21
    No surprise that rapper Flo Rida would be performing a concert in his home state of Florida. Flo Rida is no stranger to the music industry, starting his career in 2006 and thriving ever since.  Flo Rida is known to perform a fun and lively concert for the audience. Even if you are not the biggest fan of him, he is definitely one to see for the upbeat atmosphere of his concerts.
Red Hot Chili Peppers at Amway Center on April 25
    The Red Hot Chili Peppers began their career in 1983 with only 30 people in the crowd at their first gig. Now they're on another worldwide tour for the 12th album titled, "The Getaway." The Peppers are a mix of funk rock, rap rock and psychedelic rock. This style comes from the band's influences of Jimi Hendrix, Iggy Pop, and Syl and the Family Stone.