Wonderful review for "Wonder"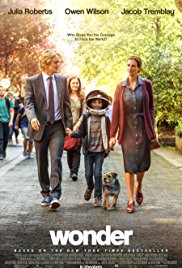 Hang on for a minute...we're trying to find some more stories you might like.
   "Wonder" is a powerful children's novel written by R.J. Palacio and has recently been adapted into a movie given the same name. It tells the heartwarming story of August  "Auggie" Pullman, a fifth grade boy with facial deformities who begins proper school for the first time in his life. The movie takes place during his entire fifth grade year and it really shows how Auggie transforms from a young boy with countless insecurities to someone who grows into his own skin and finally feels confident.
   My favorite aspect of the movie was how it was essentially split into multiple "chapters" and showed the perspective from all of the main characters. By doing so, it showed a day in the life from each character, and revealed all of the struggles and issues that each character faced. Although the movie is primarily about Auggie, it focuses a lot of its time on learning more about Via, Auggie's older sister, and Jack Will, Auggie's first friend at his new school. I also enjoyed how the movie incorporated many flashbacks. It revealed how many characters acted in the certain ways that they did and how they changed over time.
   This tear jerking movie is a must-see. It makes you laugh, it makes you cry, and it provides an important lesson to all ages. I highly recommend "Wonder" to anybody in need of seeing a good movie.