"The End of the World" Review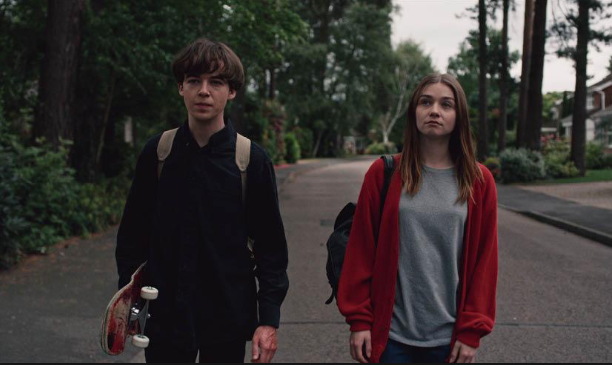 From the title of the show, most would assume that it's about the world ending. However, the Netflix original The End of the F***ing World is actually about a quirky, loving relationship between a psychopath and defiant, wounded teenager. The show is very similar to something Wes Anderson would direct, but with much darker twists. The eight-part series is an easy watch for a show with love, drama, action and mystery.
   "I feel I dunno, I feel comfortable with him," is how 17 year old misfit Alyssa describes her extremely obscure yet heartwarming relationship with James who is also bit odd for his age. They meet at school when Alyssa asks James if he wants to be her boyfriend. From there Alyssa takes control of the relationship. James is different from his age for the fact that he often thinks about killing people. James dark past has shaped the way he interacts with people. Alyssa's life is far from perfect too. Her father left her at a young age with no explanation. Her mother remarried and now Alyssa has baby twin sisters. Alyssa's mother tries to make it seem like they have a perfect life, but it's far from it. Her own mother ignores that Alyssa's step-father hits on her.
   Sick with their own lives, Alyssa and James run away together. James sees this as the perfect opportunity to kill Alyssa. As they travel on the road together, they squat at a random man's house. And end up having to kill him after the man attacked Alyssa. The two run away from the cops trying to find Alyssa's father. What carries the series, is the connection between James and Alyssa that grows on their journey. Their adventures along the way are unfailingly madcap and sometimes sinister. Their relationship builds so much that James starts feel more alive causing him to not want to kill. The show teaches us Alyssa and James aren't the only ones who are a little bit off, but that the world around them is frightening and everyone has secrets.