The revolving door: addressing frequent coaching changes on campus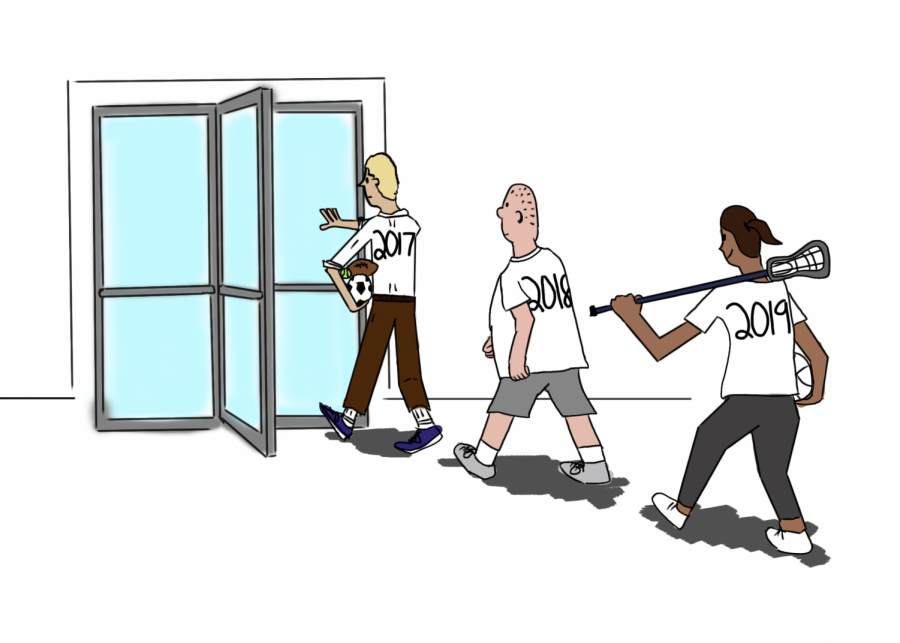 Many high school athletes enjoy a stable coaching staff, forging bonds with their coaches and teammates over the course of four years. However, this is not always the case. Some Trinity athletes, including senior basketball player Sophia Cheros, have played under a different head coach every year of their high school career.
   "I've played basketball at Trinity under four different head coaches," Cheros said. "If you include assistants, that's seven different coaches. There's a learning curve. Every year, [players] have to figure out how the new coach runs things and adhere to new expectations. It can be very stressful."
   Chris Cayo, a senior on the boys' basketball team, agrees.
  "With a new coach, you don't know much about them and what they want," Cayo said. "It's a lot harder to learn everything on the fly."
   The boy's varsity basketball program has seen five head coaches in the past nine years.
   After going through several coaching changes, it can be hard for players and long-time assistant coaches to get excited about yet another new head coach.
   "I've seen so many new coaches come into the program that I've gotten used to it," social science teacher and middle school basketball coach Brandon Burmeister said. "It's harder for the players, as they've heard similar speeches from several different new coaches. They've had good and bad experiences in the program but never consistent experiences. There's not an institutional memory."
   Both Cheros and Cayo have played for stable coaching staffs as well as volatile ones. Cayo has played football at Trinity since 9th grade, and Cheros has been on the varsity weightlifting team since 8th grade. Both football and girls' weightlifting have had the same head coach over the last few seasons.
   "With the same coaches, you're able to learn about the system and how they coach, so you feel more comfortable as a part of the team," Cayo said.
   Both agreed that having a stable coaching staff made the relationships and experiences on a team more meaningful to the players. At a small school like Trinity, teaching and coaching for a long period allows a coach to get to know his or her players on an academic and personal level as well as an athletic one.
   "Weightlifting has been the best experience for me because of the consistency of the two coaches, Coach Meyers and Coach Miller," Cheros said. "Having them always there believing in me and building the program up for years is awesome. They've made me a stronger athlete both mentally and physically and I would not be who I am today without them. I think that part of that impact definitely came from having them by my side since I was 13."
   Michael Arney, science teacher and the previous head coach of track and field, stresses that coaching is about far more than wins and losses.
   "I think that continuity of a coaching staff helps athletes over their career in that they become committed to a specific way of doing things," Arney said. "Consistency builds a sense that you are committed to not just a program but committed to a group of people, and maybe that's where the concept of Trinity family comes in. It's more than just a sports program."
   Arney adds that a stable coaching staff not only helps build relationships, but it also builds athletic success.
   "If you're playing in the same system for a long time, it's easier for a team to become a cohesive unit," Arney said.
   However, playing under only one coach for a long time can have negative outcomes as well.
   "I think coaching changes can be bad in a sense because a strong program can't get built when the leadership is always shifting, but they can also be good because I've learned to adapt and play under different coaching styles and personalities," senior tennis player Samantha DiMaio said.
   Moreover, most of these single-year coaches haven't left Trinity on bad terms. Some left to focus on another job or to obtain a master's degree. Others left because they moved out of state. 
    "Having a bunch of different coaches in basketball, or in any sport really, can impact the team and the program in a not-so-great way," Cheros said. "It's not the coach's fault; it's just how it is. Playing under a coach for only one year just makes the experience less meaningful."
   Associate Head of School Dennis Herron agrees.
   "In the case of the coaching changes that are happening this year, none of them are really related to the program or the athletic director," Herron said. "They're all more related to the personal life of the coach."
   Because of this, it is unclear whether the issue of retaining coaches is specific to Trinity, or if it is one that plagues high schools everywhere.
   "We don't really have a coaching retention issue," Herron said. "We have a couple of issues in our athletic department that are really hard for any school to fix."
   However, the fact remains that a number of sports on campus, including girls' and boys' golf, girls' soccer and girls' tennis, will begin their seasons with a new head coach next year.
   Solving this problem is complex, but it is necessary to look for possible solutions, as over 70 percent of Trinity students play sports on campus and thus are impacted by frequent coaching turnover and its effects.
   Burmeister suggests prioritizing faculty members that double as coaches and are linked to Trinity in some way outside of their sport.
   Former cross country coach and mathematics teacher Michael Hill agrees.
   "It is extremely rare in my opinion and experience to have seen equal success with an off-campus coach versus an on-campus coach if other variables were the same," Hill said.
   Arney believes that having faculty coaches is important because they know not only their sport but also their environment.
   "I believe strongly that you want to have in-house coaches—coaches that work in more than one capacity at the school," Arney said. "It gives them a connection to the kids, and more than just availability, they have a sense of the institution. We've hired people here because they're excellent teachers, and coaching is teaching more than it's about winning. The mission of Trinity Prep is more about developing individuals than developing a winning program. With off-campus coaches, it's important that they're also committed to our mission instead of just getting wins and college recruits."
   Herron agrees.
   "As a general rule, I would want to fill all head coaching positions — varsity, JV, and middle school—with full-time faculty," Herron said.
   Burmeister emphasizes the unity of a program, across the middle school, JV and varsity levels, as a key to a program's success.
   "I think that at a school like Trinity, having played here as an athlete and having coached here for years, having a presence in the school on the part of a coach is vital" Burmeister said. It allows the coach to promote the idea of building a program because he or she will see his or her players every day. Trinity is a small community, so when you're a part of it, you get to know all the kids in your program."
   Social science teacher and former girls' basketball coach Sam Stewart agrees.
   "You have to keep track of what your younger kids are doing and you have to know what your coaches are doing down at the lower levels," Stewart said. "You want to build a group culture. It isn't just for that one particular varsity squad. It's for everybody who's part of it. You want those younger kids to be thinking 'I want to make varsity someday.' Once you have a hook like that, your program has a feeder system."
   Burmeister points out several examples of such programs at Trinity, proving that such a stable program with a faculty coach is possible. He nods his head to the swimming program run by Rocco Aceto, the head swim coach, aquatics director and full-time employee of the school. 
   Rocco Aceto, the head swim coach, aquatics director and full-time employee of the school, says that being employed by the school full-time makes him a better coach, especially in the context of Trinity.
   "I understand the homework load of the students, their lifestyle, and any stress that might be affecting the students," Aceto said.
   Aceto echoes Burmeister's sentiment that having a stable coaching staff correlates with a successful program.
   "The more turnover there is, the less overall success there is also," Aceto said. "This happens because of scheduling contrivances, personality clashes. Since I have been at Trinity, we have had several different athletic directors. Swimming is a well-oiled machine where we work many long hours to keep it running, so we weren't affected."
   He compares this phenomenon to the classroom.
   "If you were to have a teacher move away in the middle of the year, and then had a different sub for the final exam, it would be very stressful." he said.
   However, because coaching is Aceto's primary job, he has an advantage in that he can devote all his time to developing the swim program. He also has the luxury of directing a club program affiliated with Trinity so that he can oversee his athletes' training year-round.
   "There is no off-season training," Aceto said. "If you want to be great at a sport, it is year round. The kids who stay year round are the ones who make it to the district and state competitions. I always look at a three-year plan for athletes, with two seasons per year, one for speed and one for strength."
   Stewart agrees.
   "You can't think of it only as 'I'm coaching the varsity between October and February,'" Stewart said. "I didn't coach a team—I coached a program. There's always going to be offseason stuff."
   The boys' cross country program, an powerhouse that won four state titles back-to-back from 2013-2016, is similar to the swimming program in many ways. For years, the program was headed by Trinity chaplain Ken Vinyl, who, like Aceto, was a full-time employee of the school. The cross country program is also affiliated with a club team, Avery Creek Running Club, that was created by Trinity and competes in national-level meets such as Nike Cross Regionals and Nike Cross Nationals. Like the swim team, the cross country runners also practice with their teammates and coaches year-round. They even go to a running camp together in Brevard, North Carolina, each summer to prepare for the upcoming season.
   In an ideal situation, each varsity program would be similar to cross country and swimming—that is, connected to such a club that operates out of the school and is run by Trinity faculty. However, following that model is not an option for most coaches, who, unlike Vinyl and Aceto, may not have the time, facilities or money to start a club program at the school.
   Having coaches that double as teachers also has its downsides, since they already have a full slate of work in handling their teaching obligations. 
   "It is increasingly difficult to find a full time teacher who can also be the head football coach or basketball coach or volleyball coach," Herron said. "That's generally because the pressures and expectation levels over the years on coaching and sports have risen. It's hard to find someone who has the talent to do both. For the teacher itself, it is a lot of extra time."
   For example, at the time Arney stepped down from his position, he was trying to juggle coaching with teaching six sections of AP physics.
   "I think that Trinity Preparatory School is a demanding place to teach and that coaching invariably forces compromises," Arney said.
   Other times, a teacher may step down from their coaching position to pursue a graduate degree or to spend more time with their family.
   "My kids got to an age where I was ready to be more involved," Hill said. "The way I coach is all-in. When I coached, I demanded things from my athletes and in return I tried to give back as much as I could. So, in some ways, I was done being everyone else's dad and I was ready to be my own kids' dad."
   Stewart stepped down from a previous coaching job in Ohio for very similar reasons.
   "I had a saying on my team: God, family, school, basketball," Stewart said. "I stepped down from my position as head coach during my daughter's junior and senior years so I could get her home right after school to do her homework. I told my team that I was following my own rules. God, family. And my daughter takes priority over coaching."
   Coaching high school sports, especially at Trinity, is also not financially lucrative.
   "The financial compensation that our school offers for coaching is competitive with other schools, and that's not really what coaches are looking for in high school sports," Herron said.
   However, it can be hard for teachers with full schedules to devote time and energy to something that makes very little money, even if it is something that they love.
   "The compensation is fairly small," Arney said. "Mr. Maughan once told me that the standard pay for a head coach is supposed to be $13 an hour, but that does not include time outside of practice and games. The actual hours that you put in are less than minimum wage. It's hard for a teacher, especially one with a family, to justify putting in hours like that without financial compensation."
   This goes for assistant coaches as well.
   "I have an adjunct coach, Scott Baker," Aceto said. "He brings a lot of knowledge and energy to the program, but he gets paid a hamburger and a coke, so it's to his disadvantage."
   Another option is to affiliate a program with an outside club.
   "If a teacher can't start an off-season club, they should encourage their kids to join an AAU club," Aceto said. "It is just important that the AAU leader and the school coach synchronize their plans."
  However, that can be hard to maintain, especially if the students played with separate clubs before playing together for Trinity.
   Usually, the more serious athletes on a varsity team will join club programs in the area for year-round training, and others may choose to participate in other sports or activities, such as theatre, forensics or history bowl, instead of playing their sport year-round. 
   Additionally, for some athletes, high school athletics may take a back seat to playing with their long-term club. Cheros, for example, considered not playing basketball at Trinity her senior year, and she was solely assisted by her club coach in the process of committing to Denison University this fall.
   Moreover, turnover has not only occurred in coaching positions, but also in administrative positions in the athletic department over the past few years. In the absence of an athletic director, Herron has overseen the school's athletic department for the majority of the 2017-2018 school year.
   There is no clear-cut answer as to how to build more stable sports programs at the school, and the solutions presented by teachers and students are complex. Faculty coaches tend to keep their positions longer and are more interested in building a program than off-campus coaches, but they also are plagued by problems such as lack of time and financial compensation. Furthermore, even if each sport on campus was to be built into a powerhouse program, some students would no longer want to participate because of the greater time commitment.
   The administration hopes to move in a direction of greater support for coaches and a stable athletic department.
   "I think the best way for the athletic department can work to retain coaches is to provide the best possible support we can to a coach and hopefully allow them to utilize their time to work with the kids," Herron said. "On the back side, we want to properly recognize them at the end of the year and value what they're doing. We've had a little bit of turmoil in the department, but right now we have two people moving into administrative positions who've been at the school for a long time," Herron said. "I feel like we're in a good place."
About the Writer
ZOE MYERS-BOCHNER, Layout Editor
Zoe Myers-Bochner is a senior and third-year member of the Voice staff.  This year, she is serving as co-layout editor and devoting herself to learning...