The Fight Against Fast Fashion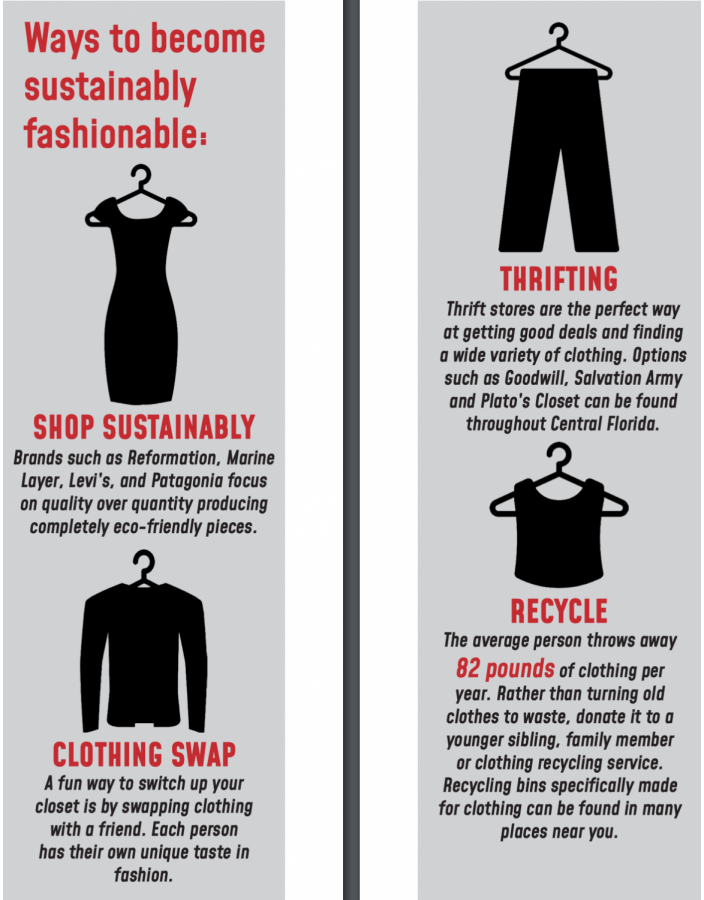 From the minute a plain crew neck t-shirt begins its journey to the sale rack, it leaves behind a harmful environmental footprint. The production releases toxic chemicals into clean water leaving many without drinkable water.   
Even when the shirt lands in the buyer's hand, the environmental harms only continue through washing and the purchasing of a replacement. The biggest culprit of these harms is fast fashion. This form of fashion emphasizes high-speed production and low costs, at the expense of the environment. Harmful fashion trends can lead to air pollution and habitat destruction, and they contribute to climate change and severe depletion of natural resources. 
In order to combat the harms of fast fashion, companies and consumers have begun to shift towards more sustainable fashion. This type of fashion is defined as the process of using materials made under secure working conditions that protect the environment, people and animals. From the way the clothing is produced to the way it is sold, the sustainable fashion movement has started to gain momentum over the past few years. 
Annually, students drop big bucks on formal attire for school dances. A survey from USA Today in 2017 found that the average high schooler spends an average of 202 dollars on a prom dress. In order to save students from breaking the bank when shopping for formal dance attire, companies such as Rent-the-Runway have debuted as popular options. 
"Renting formal attire is the better economical and environmental choice when it comes to finding a one-time-use outfit," said Angela Nunes, a Rent-the-Runway representative. "Most formal pieces are produced cheaply, sold for large amounts, and are never worn again." 
The company was launched in November 2009 as a designer wear and accessory rental service with their main target audience being everyone wanting an affordable way to change up their style. 
"The inspiration behind the creation of Rent-the-Runway was creating a way for people to spice up their wardrobe without breaking the bank," Nunes said. 
Rent-the-Runway provides consumers with an affordable way to try new pieces and expand their wardrobe without the hefty price tag. Over the past few years, the company has expanded to sell fashion pieces from over 450 designers and opened five retail locations. 
"Fast fashion companies create large amounts of waste which only result in more waste as the pieces don't tend to last long, resulting in this cycle of buying and throwing out," Nunes said. 
A study by Lydia McAllister of Vox News found the  average person throws away 82 pounds of clothing annually. By renting pieces, this ensures that all pieces are utilized, and it's a fun way to try out different styles without cluttering your closet.  
In addition to creating a more affordable way of getting new pieces, the company has been fighting back against fast fashion and its environmental harms. By renting rather than buying, water and electricity are saved, and detrimental emissions required to produce new items are eliminated. 
"Rent-the-Runway is aiding in the fight against the harms of the fashion industry by not selling fur and feathers and by offering eco-friendly dry cleaning services and plastic recycling processes," Nunes said. "We've been using environmentally-friendly packaging since 2015, and we've saved over 900 tons of shipping waste." 
The company also reuses their items in sample sales and donates to organizations like Operation Prom. By renting, rather than buying, consumers are able to help combat the destructive harms of the fast fashion industry.