Orlando Has An Affordable Housing Crisis – Here's Why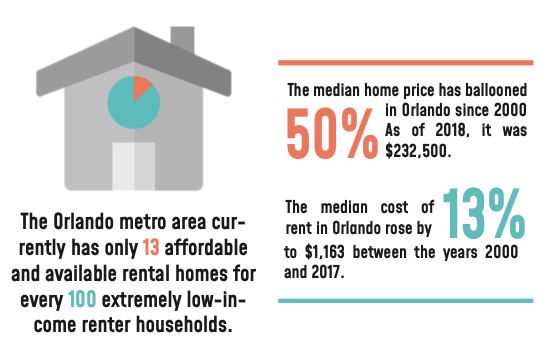 A headline for Orlando Weekly Magazine in March 2019 alerted the residents of Orlando to a problem that very few were familiar with: "Orlando is literally the worst place in the country right now for affordable housing." While this headline may seem like an exaggeration, a report from the National Low Income Housing Coalition finds there are just 13 af- fordable and available rental homes for every 100 extremely low-income renter households. The Orlando Sentinel finds in 2019 that more than 12,000 Central Florida households are on a waitlist for affordable housing.
The affordable housing crisis began with the Recession of 2008, which crushed the real estate and housing markets. The Orlando Sentinel's Lauren Ritchie explains that after the recession, the construction industry focused on luxury projects that generated more profit. This created the "missing middle," or a lack of affordable homes available for those who need them most. Hal George, the President of Habitat for Humanity of Winter Park-Maitland and the Chair of the Winter Park Housing Authority, said that the city should have caught the problem before it's too late.
"There were a lot of opportunities after the recession with cheap land, and we didn't take advantage of it," George said. "Shame on us. I don't think any of us thought we would be so short in supply and high in demand."
Despite the growing crisis, George says that they are receiving no government funding to combat the problem.
"They've been raiding the affordable housing fund to use for other things, and as far as I know, they have never given substantial money for affordable housing," George said. "It's one big scam."
In fact, the state has taken over $2 billion from the Sadowski Affordable Housing Trust Fund, which is supposed to allocate money to develop affordable housing, according to Orlando Weekly in March 2019.
This only exasperates a growing problem in Orlando that George described as a "perfect storm," as many factors have led to our city's affordable housing crisis.
"The supply and demand [for afford- able housing] is increasing, we've got a certain amount of supply and a huge demand,"
George said. "Construction costs and land costs have exceeded what makes sense. It's a lack of forethought and planning, nobody re- ally expected it."
Prices for both land and construction have also increased tremendously. George explains that Habitat is paying upwards of $200,000 for a small lot in Winter Park, so it has become difficult to maintain affordability. Father Richard Towers, Trinity Prep's chaplain and Intro to Ethics teacher, as well as one of the sponsors of Trinity's Habitat Club, agrees that this problem has gotten out of hand.
"One of the challenges is finding housing that is suitable considering how competitive the market is," Towers said. "I was lucky to find a place to rent when I moved here last year, as we are shocked at the costs of small pieces of land."
George is growing increasingly concerned with the situation in Orlando, as less people are able to find homes that they can afford for their families.
"People are complaining: 'we don't have any- where to live,'" George said. "We've got people living on the streets and in abandoned hotels."
The 2017 Oscar-nominated movie "The Florida Project," perfectly encapsulates the crisis in Orlando; people are forced to live in motels without the security of having their own home. As the city's homeless population continues to rise, and as more people are unable to afford homes, the crisis continues to grow.
The Orlando metro area currently has only 13 affordable and available rental homes for every 1OO extremely low-in- come renter households.
Adam Fields, the husband of Trinity Prep College Counselor Danielle Houston and a graduate student at UCF's architecture school specializing in affordable housing, believes that more awareness needs to be raised about this important issue.
"Most people know that rents are high, but aren't fully aware of just how bad the problem is," Fields said. "Participating in community meetings and raising the issue with elected officials are other ways to drive the conversation and to help bring about change."
George agrees, saying that the Orlando community must come together to tackle this crisis head-on, before it grows out of hand.
"It's going to have to be an acceptance and a commitment from all of the regional municipalities of Orlando," George said. "We need to all work towards the same goal. It's really important to keep some sort of grassroots movement going where people keep pushing it."
Towers also believes that continuing and emphasizing Trinity's 20+ year partnership with Habitat for Humanity can also help bring awareness to the problem. He said that by bringing awareness to the issues of low-income families, we can help develop young leaders who will want to solve the problems that we face as a community.
If Central Florida is able to work together to help tackle this problem, then hopefully, families will once again be able to afford a home, something that many people take for granted.