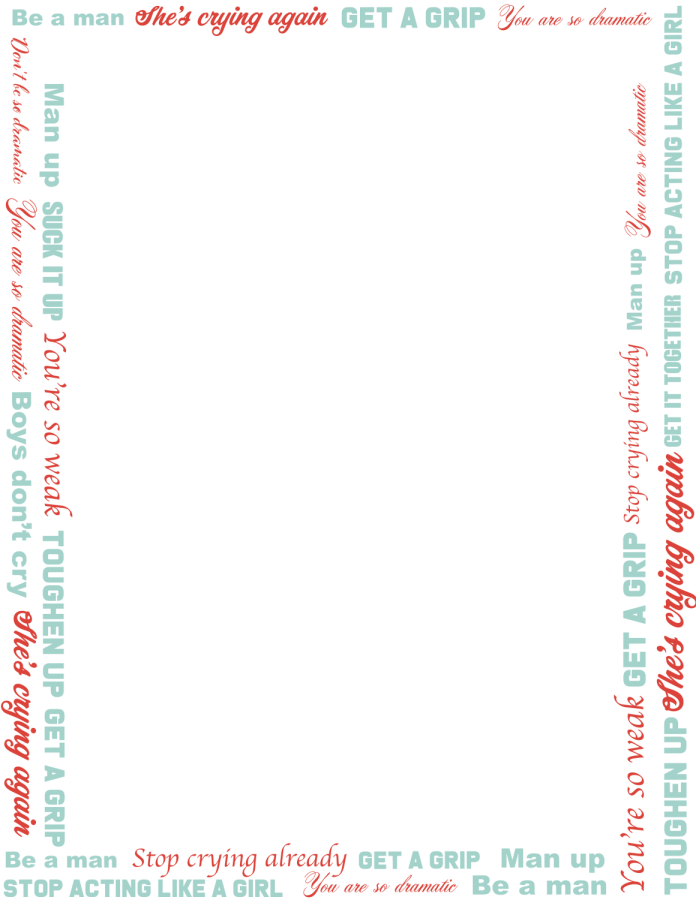 In the Disney movie "Inside Out", little figures in the protagonist's head represent the various emotions she feels with sadness and disgust being female and anger and fear being male. While, according to the director, the specific pairings were made for comedy, it also mirrors how society associates certain emotions with each gender.
   Emotional gender stereotypes have been around for many years, and are often reinforced through everyday phrases. Some were insults like "stop being a drama queen", while others were encouraging like "man up". However, all of them dictate what emotions are accepted in each gender. 
   "Everybody handles emotions differently," Health and Wellness Dee Starling said. "If somebody doesn't handle it, according to the stereotype, like girls, if they show anger, they're often called the B word. And if guys cry, they're often called unmanly or wimpy type names"
   These stereotypes can also have more serious outcomes. Women receive fewer opportunities in the justice system, for example, they are often steered away from violent cases because of the image that women are incapable of handling criminals. According to the Wall Street Journal, in criminal cases, men are nearly four times more likely than women to appear as trial attorneys. According to the Pew Research Center, 42% of women in the U.S. say they have faced discrimination in their job because of their gender, and are also not hired as much because they are seen as too busy with caring for children and raising a family to work a full time job. 
   "A lot of the big firms didn't hire as many women, because back then it was acceptable to think, 'well, we don't want to hire this person, train them, spend all this time doing that, and then they're going to go get married and have children and quit working'," Lawyer Leigh Zehnder said. 
   With this assumption many people associated lawyers with men in suits and never a woman as men made up the majority of lawyers. According to 2Civility, a website about law, from 1950 to 1970, only 3% of all lawyers were women, solidifying the fact that men lawyers are the norm. 
   "[When] I was a younger lawyer, I would walk into a courtroom, most people in the courtroom would assume that I was the court reporter," Zehnder said. "They just assumed I was the one there to take everything down, and they never assumed that I was a lawyer."
   Women in power and CEOs receive similarly prejudiced treatment. According to a report presented by the Women Business Collaborative, of the 500 largest corporations in the U.S., only 8.2% have female CEOs. Also in a 2016 McKinsey study, women who negotiate are 30% more likely than men who negotiate to receive feedback that they are "intimidating," "too aggressive," or "bossy".
   Oftentimes, girls will internalize their emotions because of the stereotypes.
   "It holds some girls back because they don't want to be labeled or stereotyped," Starling said. "So a lot of times, they brush their emotions under the rug and try to pretend that they don't exist.That can affect them, being unable to express your emotions can hold you back from who you are."
   This problem isn't exclusive to women; Men are also often forced to suppress their emotions because of the pressure to maintain a stoic public image. This can lead to men ignoring their own feelings or expecting that society will dismiss their feelings if they even express them in the first place.
   "When they're upset or really happy, you don't see guys just crying in public or screaming for joy or anything like that," Sophomore Jerry Chen said. "You'll get some disapproving glances, maybe some frowns. It's like an unspoken rule that you're not supposed to do it."
   According to Fawcett, a website on gender equality, 69% of men aged under 35 said that gender stereotyping of children has a damaging effect on perceptions of what it means to be a man. The unspoken rule is so ingrained in society that it is never really questioned or talked about. 
   "If people don't know how to manage stress or express their emotions, a lot of people get depressed, especially teenagers around this age," Chen said. "You can be feeling a lot of very strong emotions, and you don't have anywhere to kind of get rid of them."
   As both men and women continue to face these stereotypes, acknowledging and discussing these unspoken emotions is key to putting an end to the stigma. 
   "People are starting to understand that guys have the same emotions as girls, and it doesn't make you feminine, it just makes you acknowledge your emotions," Starling.
   Some celebrities, such as Serena Williams, Taylor Swift, and Harry Styles are also using their platform to speak out about gender stereotypes and toxic masculinity.
   Businesses are also combating unequal opportunities by providing special organizations like Women in Manufacturing, Girls in Tech, and Women Who Code that support women in industries that are male-dominated. Even in these industries, more and more women are hired each year. 
   On a smaller scale, little steps like finding ways to release emotions like journaling, talking to a close friend or family member, and exercising can help people overcome these stereotypes. 
"You can help knock down barriers and stereotypes if you acknowledge that we're emotional human beings," Starling said.