Artist Mimi Hwang walks into the vibrant room of her studio, colors popping from every corner. She approaches the blank canvas and dives in with crayons, brushes of all sizes, and a plethora of colors, with no plan but to follow the flow of her emotions. Through the rugged shapes and unique lines in her finished abstract piece, she tells a complex story of her love for her dog and the companionship they share as they face looming climate change.
   "It's an internal journey and things are happening while you're painting it," Hwang said. "The paint takes you in certain directions [with] your mood, your arm, your energy, and you have to learn to trust that."
   Hwang's love for art stems from her childhood. She was born into an Asian American family that had an appreciation for art as a creative form of self expression.  
   "I happen to be brought up by parents who loved the arts and painted in their spare time," Hwang said. "They were very Chinese and they didn't want me to be an artist, they wanted me to be a doctor or something, but they did love to nurture my creativity." 
   Despite all her years of doing art as a kid, Hwang did not discover abstract art until she was in New York, where she was fully immersed in the art world. The abstract expressions of the 50s with inspiration from punk, reggae, and fusion stuck with her. 
   "That was burned into my soul and the way I see and appreciate art and culture, I feel really grounded," Hwang said. "I will always identify with that scene." 
   Despite her passion for abstract art, she fulfilled her parents' wishes for a stable job and pursued a successful career as a consultant in IT. It was not until six years ago, when she decided to quit her job and pursue her dream as an artist.
   "It was just a calling, I really focused on it too," Hwang said. "So, I ended my contract and I said 'I'm just going to go straight downtown Orlando and get myself into a studio with other artists and I'm going to paint all the time.'"
   After officially becoming an artist, Hwang focused on finding herself through art. Being one of the only Asians in school growing up, she struggled with her identity and what defined her. 
    "I was a banana, yellow on the outside, white on the inside," Hwang said. "When I went to college, there were very few Chinese people. So all my friends were white, and I thought I was white too."
   Abstract art helped her map out her bundle of emotions through the freedom it offered. Through art, she was able to find herself from the Chinese roots of her family to the American culture she lived in. 
   "I am an emotional painter," Hwang said. "It's always about my inner journey and abstract is suited to that [instead of] rather than trying to present something because of the light or the form of the function. As an artist, I fought and still have an urgency to express myself with authenticity, and that means finding my roots, both sides, eastern and western and pay[ing] it tribute." 
   Preserving her heritage is important to Hwang. She maintains a sense of zen in her paintings to honor her father, who was a master of tai chi, a Chinese practice which involves slow gentle movements to achieve a meditative state of mind. She uses Chinese colors like jade, red, and tan as well as incorporating the color black with strokes of calligraphy.
   Inspired by Asian art, Hwang often uses the concept of space in her artwork to express the flow of emotions. Many people often find space isolating and empty, but in Hwang's art, space is used to connect the subject to the world. In one piece, Hwang painted a figure sitting on a big stone surrounded by blue to accentuate her interpretation of space.
   "He's connected to the whole world, space is connecting him," Hwang said. "It's not separating him. So it's a flip way of getting people to see how important holding space is. Our soul really carries a lot of spaciousness, and I try to retain that."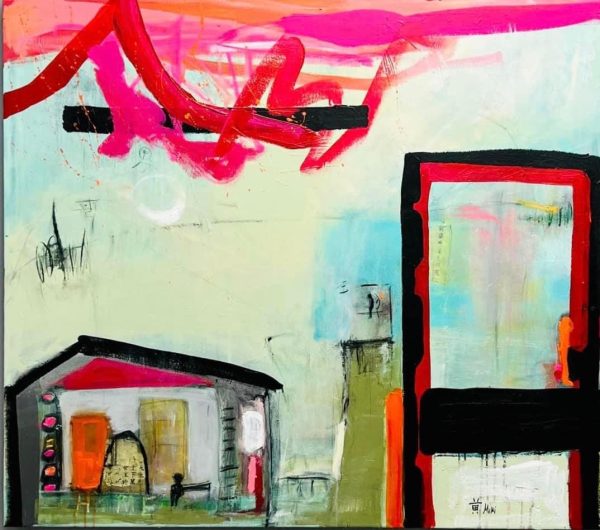 Besides specific techniques used, the main point of Hwang's art is the portrayal of her emotions as her life changes. In one of her art pieces named "Journey Home," Hwang explores the journey of finding her sense of home. 
   "What is home?" Hwang said. "Is it a place or is it a memory or is it a loved one? Or is it a sense of peace, people are always looking to be home, but sometimes it's not a location–it's a feeling." 
   In another piece named "Lovers," Hwang focused on the scarcity of time to devote love to someone entirely. 
   "The emotion between the two people was so strong it was the only thing you should look at," Hwang said. "That was an interesting process to strip down to the essence of the emotion. I could have spent a lot of time painting more figures and flowers, but it was really about the two people and how they felt about each other that came across." 
   Sometimes her paintings involved emotions of sadness and pain, especially when she experienced the loss of her child three years ago. The paintings were not just an expression of the soul, but a lifeline that protected and helped her through the tragedy.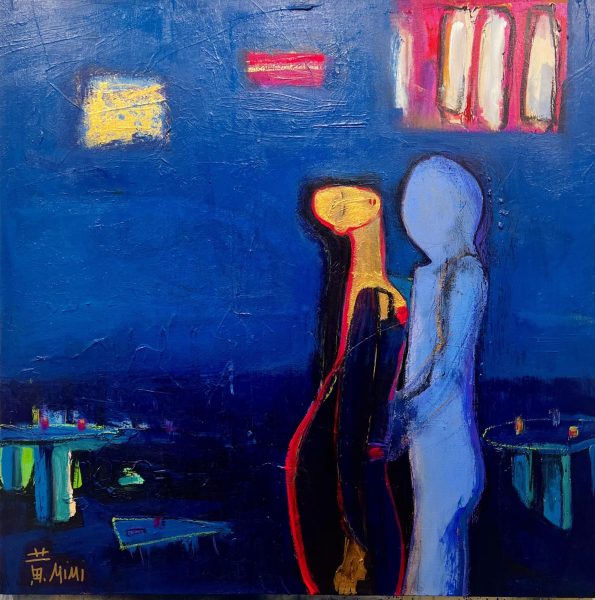 "I thought my life was over and I had to paint my way out of it as grief touches my paintings," Hwang said. "I don't know what I would do if I did not paint if I didn't have that, I don't know if I would have made it… painting helped me, it propelled me forward to address my vulnerability." 
   As well as processing her sadness through her works, she also dwelled in the mystery behind human life. 
    "You always know people live and die, but when it really happens to someone close, it's a mystery," Hwang said. "They were here, and now they're gone, but you feel them. That sense of mystery and connection from the universe or something enters into my paintings." 
   Hwang expresses joy in her paintings to balance the heavy emotions that sometimes consume her art. 
   "It's a good thing in life to center yourself, to find joy, to find gratitude, to reach inside yourself and see if you can find the strength that day to help somebody, to be kind to yourself because it's hard to find [joy] when you're sad, but all you have to do is look, be present," Hwang said.
   Abstract art centered Hwang throughout her life as it turned in different directions down a winding path. She found joy and gratitude in telling her story through art. It will continue to tell more stories to connect and bring joy to others like it has for Hwang. 
   "The arts, in whatever form, are deeply connected to being a human, you are connected with them and there is some joy and beauty in that," Hwang said. "We need it very much in our lives because we are full of ugliness, material things, and all sorts of things that don't really matter."