Genius Junior
Sixth grader shares her journey to NBC stardom
Hang on for a minute...we're trying to find some more stories you might like.
   "Ever since I was maybe an old toddler, I've had the audiographic memory."
   Sixth grader Ashley Headrick has always been good at remembering things—whether it be movie quotes or funny jokes—so much so that last year, she earned a coveted spot on NBC's newest game show: "Genius Junior." Hosted by veteran celebrity Neil Patrick Harris, the competition included harrowing tasks like memorizing the order of a randomly shuffled deck of cards, learning an airline's 4,500 daily flight routes, calculating rapid-fire math problems and identifying the missing digit in the first one hundred numbers of pi.
   "I made up stories to help me remember things for Human GPS," Headrick said. "They had the orange flight route that goes from Burkina Faso to Paris, Brussels and Amsterdam … I remembered it as PBA, like peanut butter and jelly."
   Yet, the challenges and necessity for memorization techniques only compounded. The competition culminated in a special section called The Cortex, in which the winning team had three minutes to answer questions from any category in the pursuit of prize money. Headrick's team, The Dork Side, won their preliminary round and answered questions in The Cortex ranging from the capitals of African countries to the periodic table—making $45,000 in the process.
   "I was so proud of my team because I feel like we made it so far," Headrick said.
   For only having one practice with her team prior to the taping of the show, Headrick found there to be astounding unanimity and coherence within the three members of The Dork Side. She considers group members Rodrigo and Shivani to be "lifelong friends" and is planning a reunion in New York City this summer.  
   Nonetheless, her journey to "Genius Junior" started far before the taping date. Last year, Headrick's mother received an email from Mensa, a high IQ organization, encouraging young members to apply for a spot on the show. Headrick went on to do Skype interviews in which she was asked to perform tasks like on-the-spot math calculations and was ultimately invited to the final auditions in Los Angeles.
   "They put you in a room filled with these big-shot executives, and it was very nerve-wracking," Headrick said. "They had a camera pointed at your face … and they had a TV behind you to show the other people if you got the question right or not."
   Perhaps even more difficult than booking the show was keeping the exciting audition process to herself. For almost half a year, Headrick had to keep her news secret from everyone except her family.
   "She would tell no one," sixth grader Reah Maniar said. "She was like, 'Oh, I was in California.' It was not until much later when she was like, 'I'm on a TV show,' and I was like, 'What?'"
   Going forward, Headrick aspires to continue her passion for the stage by becoming an actor on Broadway, naming Glinda from "Wicked" as her "dream role." This year, she performed in the musicals "13" and "Pirates of Penzance" on the Trinity stage and will continue her training in New York City over the summer.
   "She is a talented actor," Geography teacher Andrea Sockwell said. "She loves to reenact different characters in history—Catherine the Great is one of her specialties!"
   From the classroom to the TV to the stage, Headrick has made a splash. Her debut on "Genius Junior," along with the selfie with Neil Patrick Harris hanging on her bedroom wall, is just the beginning.
   "Ashley is poised, thoughtful, determined… and creative," English teacher Lenna Bowden said. "She's a ray of sunshine! And I'm convinced she just may be the leader of the free world someday."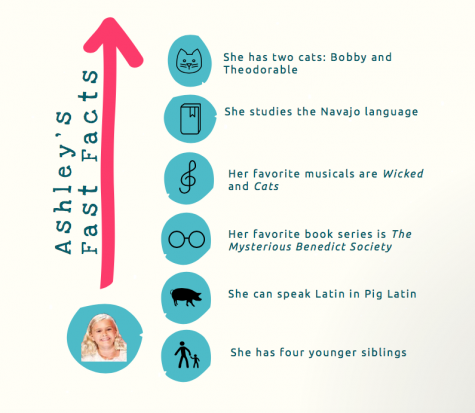 About the Writer
VALERIE TRAPP, Video/Broadcast Editor
Valerie Trapp is a senior going into her third year on staff. She is the Video/Broadcast Editor and is working to launch a new broadcast journalism department...