Addressing allergies at the Grille
The Grille works to ensure the safety of students with allergies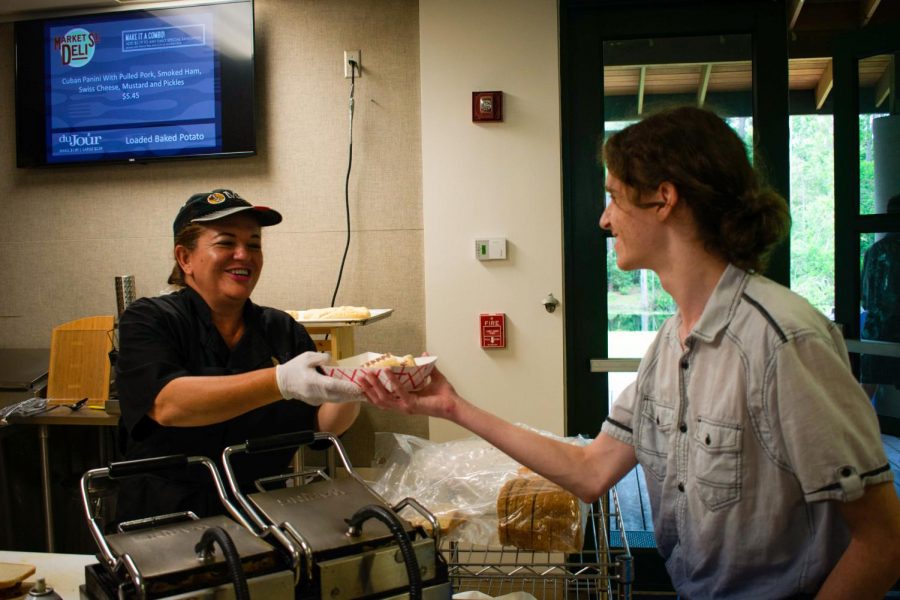 Lunchtime is a much-needed reprieve from the stress and hard work of schooling. Students like senior Joshua Gerstein wait in long lines and large crowds in the Grille, sometimes for twenty minutes, to get the new item on the menu, whether it's food from the salad bar, custom-made sandwiches or quesadillas from the grill station. He waits in an equally long line to pay and enjoy his break. For most students who order from the Grille, this is routine, but Gerstein faces more life-threatening concerns and has to communicate with the staff to make sure he doesn't eat food that causes an allergic reaction.  
  "Every day at least once a day, I'll get someone who will ask for something else because they're allergic to whatever we're serving," Chief Manager of Metz Culinary Management Chris Behrens said.  
  Food Allergy Research and Education said that of 15 million Americans with food allergies, 5.9 million are under 18. About 40 percent have experienced a severe allergic reaction in school. In his two years of working at the Grille, Behrens said that more students have requested gluten allergy substitutions than any other allergy.
  Gerstein is in the statistic of students with life-threatening allergies and eats at the Grille regularly.
  "I am gluten-sensitive, which in school makes it very hard to focus," Gerstein said. "But the real issue is lactose intolerance which is severe and puts me in the ER."
  Having recently returned to Trinity from a gap year, Gerstein was pleasantly surprised at how accommodating the Grille staff has been for his dietary issues. Prior to the change in management, he said he was dissatisfied with the quality of food and service because the previous staff made little effort to help with his struggles.
  "I would usually try to avoid anything with lactose or gluten in it, which limits an irritating amount of things," Gerstein said. "Now they have gluten-free rolls and tortillas from the sandwich bar, and it's been really delicious."
  The Grille recognizes the challenges of these students and is taking stronger initiatives to make sure everyone eating their food is safe.
  "I never really thought that cross-contamination from the fryer could get you sick," Behrens said.
  When he changes the oil in the fryers, he said he keeps one fryer designated for french fries and the other for chicken with gluten, since he is never sure when someone will request a substitute. Within the past year, the Grille has also received new purple kits to prevent cross-contamination. A daily checklist chart is also posted in the Grille with the ingredients and possible allergens in everything being served that day. This is no trouble for the staff, however.
  "It doesn't take any more time than if I were to make a chicken quesadilla," Behrens said. "My only goal here is to make everybody happy. Tell everybody, 'smiling is free.'"
  Sophomore Nydia Clifton does not usually eat meals at the Grille but will buy peanut-free snacks at lunch and breaks.
  "I usually buy chips and nut-free muffins or maybe yogurt," Clifton said. "So I don't really have a problem going in and getting what I need."
  While Gerstein praises the Grille's food and actions, Clifton said more can be accomplished. One thing she said the Grille could improve upon is labeling nut-free bakery items. This would help her better decide what she can and cannot purchase in the Grille without worrying if she may have an allergic reaction.
  Even with this complaint, new precautions and regulations allow the Grille to open its doors to more people struggling to find a safe meal. More students are allowed the opportunity to eat the same meals they love without endangering their own health and safety.
  "They seem to be really trying to accommodate, which is really refreshing," Gerstein said. "What they're doing now is really wonderful. I appreciate it and I'm sure a lot of other kids do as well."
About the Writer
Josh Lefkowitz, Staff Writer
Josh Lefkowitz is a junior in his first year writing on the Trinity Voice staff in the lifestyles department. When not performing in a theatrical production,...