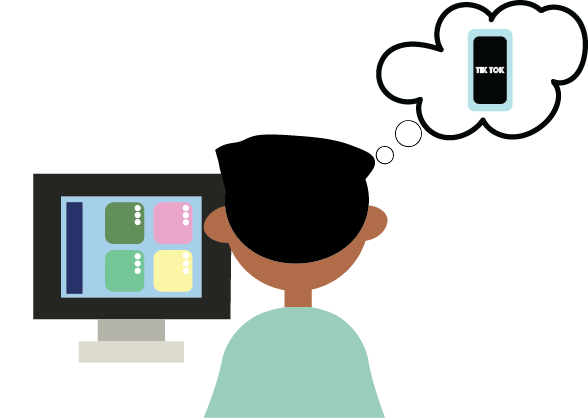 Senior Andrew Lopez-Couto sits down to study for his upcoming test on physics. Without any proper planning or agenda, he's prone to drifting away into the myriad of distractions students can encounter while in front of a computer screen.
These distractions cause many students to fall behind on their studying and push assignments off. Popular apps like Youtube, TikTok, and Snapchat that allow students to fall into a rabbit hole of content are among these distractions. According to MS Academic Support Dana Miller, focus apps are good tools to help students study.
Focus apps can help students get back on track because of their features that allow students to set timers for studying, plan ahead, and block distractions.
Miller said that some reasons for students to fall behind are not checking calendars, being unorganized, and not checking canvas frequently.
Forest is a focus app that blocks all notifications and prevents students from going off of the app for a period of time, which has its pros, but it shouldn't go without mentioning that Forest has their cons too.
Senior Victor Wang said that some focus apps do not allow students to work collaboratively, which can be frustrating when students are studying a challenging subject and could use help from a friend.
"Explaining something is going to help you understand the concept behind the problem so that you can do similar types of problems in the future," he said. "I don't like [focus apps]  fairly because I feel like I miss out on that aspect."
Wang added that focus apps also block notifications that are important as well as distracting notifications.
"I get a lot of things through my email," Wang said. "And then those things get blocked too, and then two hours later and you're like, more behind?"
These apps integrate a lot of study techniques that are commonly used into features.
"[To keep organized], you could get planners or write yourself a journal and set timers," Miller said.
These study methods are commonly integrated into some of the focus apps which allows students to more accessibly integrate this into their studying.
These apps provide a lot of helpful features, but once again, it is not a method that works for everyone, especially in collaborative settings. Some students need a more study-focused environment to improve their studying.
"I try to get a lot more work done at school," Lopez-Couto said. "I feel like at school when I have study hall or free period, there are less distractions than there are at my house… A lot of times I think working at school helps me procrastinate less."
Students might still fall into temptations while using other study methods, however, focus apps do a good job of blocking these.
"A lot of the time when I'm studying I just get distracted for like an hour by just watching YouTube and clicking on videos in my recommended," Lopez-Couto said. "I definitely think [focus apps] help you with not getting bored and clicking into a YouTube rabbit hole."
Students should find study methods that are suitable for them instead of forcing something that doesn't fit them.
"Studying is to an extent something you set up that you are comfortable with," Wang said. "I wouldn't specifically change up something for a semester exam. The reality is if you haven't done the homework all year, cramming in the last week before the semester exam probably isn't going to work."