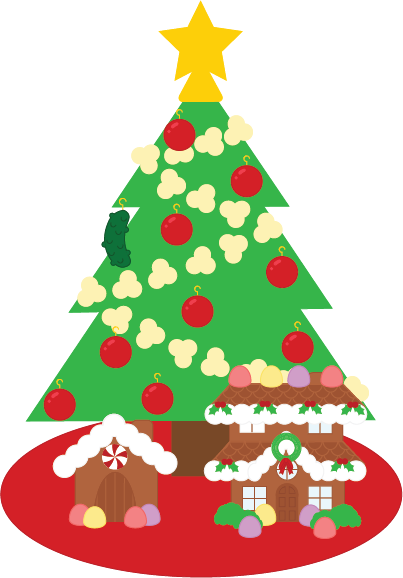 Every holiday season Americans and people all over the world celebrate their families and friends through traditions. According to non-profit website Psychalive, traditions create a family and togetherness for many households.
   Traditions like a star on your tree and decorating your tree with ornaments are what most people do to celebrate in today's day and age. However, there are many less common holiday traditions that have ties and connections to family to the people that practice them.
   Back in the 1950s and '60s, popcorn in Christmas trees was just as popular as cookies for Santa. Sixth grader Virginia Ruby partakes in many similar traditions around the holidays like the Christmas pickle and gingerbread houses. Up until last year, Ruby's family strung popcorn in their tree but have decided not to this year.
   "I think it's disgusting," Ruby said. " It's food on a tree. I mean, fake candy canes are okay, but popcorn on trees? Disgusting. Plus, we had a rat in our tree last year, so I feel like that's going to bring another rat in."
   Although popcorn stringing is uncommon today, various other Christmas traditions still remain very popular to this day. 
   Another well-liked Christmas tradition is the Christmas pickle. According to the New York Times, the pickle ornament, fondly known as Weihnachtsgurke in Germany, is one of the many popular holiday traditions currently.
   The pickle ornament has many theories as to how it came to be, but the most popular derives from German immigrants. Back in the 1800s when millions of immigrants were arriving in the US, they brought their traditions with them. The pickle ornament brings good fortune or an extra present on Christmas day.
   "My grandma gives the pickle to us and then we hide it on our tree," Ruby said. "On Christmas morning if you find it, you're lucky for the year."
   Competing for the pickle ornament is a part of the prize bearing tradition. 
   Pickles are not usually the food or smell people think of when they think of Christmas. Some people may say fresh cookies or pine trees, but Trinity parent Genny Agnew may disagree.  Though Christmas is generally about giving back and enjoying the season, competitions between families may also bring the holiday spirit to families across the world.  
   "Since we moved to Florida five years ago, every year we decorate gingerbread houses," Agnew said. "It's a tradition that we have with another family that gets a bit competitive."
   The Agnews have a competition every year with family and friends. The tradition has become a meaningful custom to be passed down through generations.
   Families all around the US celebrate the holidays in different ways but other countries have different traditions. Exchange student Hanna Skoglund from Sweden celebrates Christmas morning with a big breakfast which includes julskina, a traditional Swedish Christmas ham. 
"We go downstairs and we eat a big breakfast with Christmas ham," Skoglund said. "It is like a law." 
   Julkina is a cured ham served on Christmas morning with other varying breakfast foods. In Sweden, it is usually served with smoked salmon and pickled herrings. 
   Traditions all around the world bring family and friends together during the holidays. Traditions form bonds and events unique to every family that celebrates them. Traditions make the holiday different for every single person.