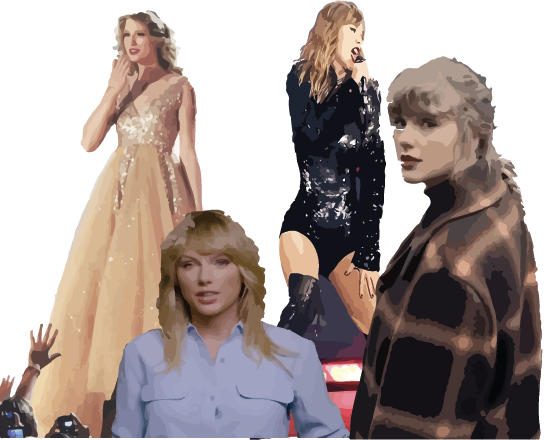 Taylor Swift is the artist on everyone's mind currently. The recent release of her 10th original studio album, Midnights, broke Spotify's record for most-streamed album in a single day, with 185 million streams worldwide. In the days following its release, Swift became the first artist to earn a billion streams on Spotify in a single week. And the album continues to make history–becoming the first record whose songs take up the entirety of the top 10 songs on the Billboard Hot 100. 
   This is a surprise to no one. Arguably the most versatile artist of this generation, Swift created top charters across multiple diverse genres. She has released 10 original studio albums, creating top-charters within the genres of country, pop rock, electropop, and indie folk. She has won 11 Grammys and was named Billboard's first ever "Woman of the Decade." Two million tickets were sold in one day for her 2023 Eras Tour, breaking the record for most tickets sold in one day on Ticketmaster and crashing their website. 
   But the question remains: how does she remain relevant after all these years? Many fans attribute it to her constantly evolving music, as she enters a new "era" with every album she releases. 
   "[Swift] is not one of those artists who just has one genre of music–she switches and she surprises you," eighth grader Campbell Alch said. "It's part of why her songs are so good: the element of surprise. Being a fan of hers, you're always waiting for a surprise."
   Each album released brings new distinctive sound and branding, but Swift's storytelling ability can be seen in every song no matter the era. 
   "I think the sign of a truly talented musician is the ability to create in every genre, but have it still reflect the emotional depth intended for it," junior Olivia Davey said. "…I think it's really impressive when artists can do that." 
   Swift began her career as a country artist with her debut album Taylor Swift, which was followed by Fearless and Speak Now. Hits such as "Love Story," "You Belong With Me" and "Back To December" were released in these albums, in the genres of country pop and pop rock. These songs revolve around young love and her childhood and in live performances, she wore her natural curly hair and a rhinestone-encrusted guitar. 
   Her 2012 album Red, can be seen as a transitional period from a country singer to a pop star. And as her music evolved, so did her style. She wore her hair straight with bangs, and could almost always be seen wearing classic red lipstick. Next era arrived with her 2014 album, 1989. Her first all pop album, 1989's tracklist included themes of self-discovery and independence rather than her usual topic of romance. It incorporates elements of synth-pop and electric instruments, leading fans to state that it's the most similar to the recent Midnights.
   2017 brought Reputation, which was much darker than her previous work. Inspired by media gossip surrounding her and finding love during hard times, Reputation featured lots of snake emblems and black outfits. Her next album, Lover, was the complete opposite. It's a dream-pop vision of bright colors and upbeat songs about love, the release of these two albums showed her vast range as an artist. But Swift wasn't done surprising her fans yet. 
   She released two albums during 2020: folklore and evermore. They are the only two records Swift considers to be "sister albums," both centering around indie folk sound and telling stories of people that would be passed down as legends or fantasies. These works are where Swift truly demonstrates her talent for poetry and storytelling.
   "Her ability to tell a story in a song is incredible," Alch said. "She makes a song and it could be about anything that's ever happened. And it's so good because all the words are just like, go together so perfectly."
   Taylor Swift's discography is undeniably iconic, but her trend of switching eras with every album might be equally remarkable. Undoubtedly, she has left her mark on the music industry and will hopefully continue to keep fans on their toes.