Advisors reinvent their role:
Advisers take steps to enhance their relationships with parents and students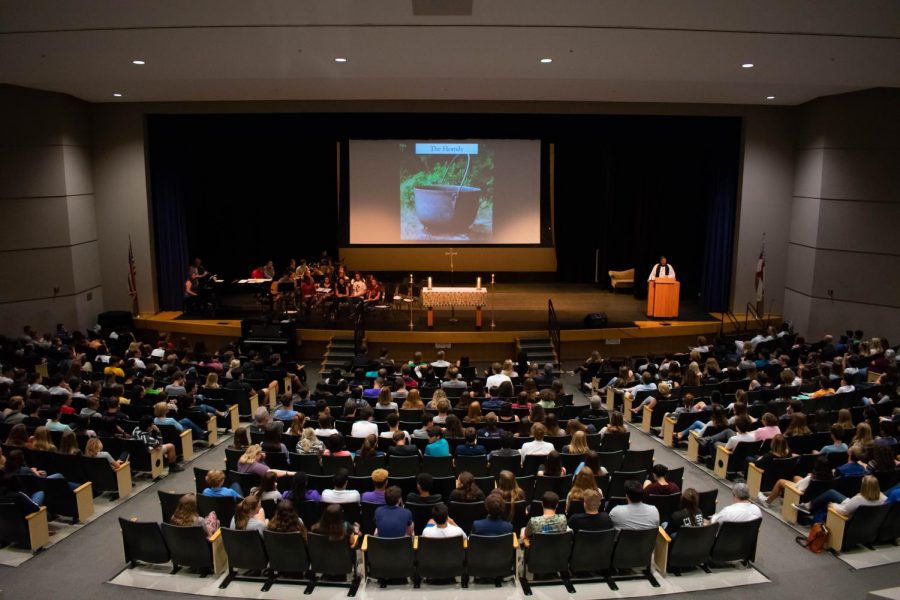 Trinity has implemented changes to make the role of advisers more prominent. These changes include advisers sitting with their advisees during chapel and forming a closer relationship with parents through one-on-one meetings. While the changes to chapel seating came as a surprise to students at the beginning of the year, parents were notified via email about the impending parent-adviser meetings.
    Guidance Counselor Christine Hempsted said the changes were put into place to direct more focus towards the health and wellness of the students.
   "We want to be sure that every student has an advocate on campus, especially the kids that won't necessarily reach out to an adult," Hempsted said. "We wanted to make sure everybody had that connection, that personalized experience."
   Leigh Zehnder currently serves as the President of the Teacher Parent Organization and has two children of her own attending Trinity. From Zehnder's experience as a parent, she has found the changes made to the role of advisers to be very helpful to both her and her children. 
   "I think the administration wants parents to understand that their child's adviser should be, in most situations, their first contact in the event of problems, questions or issues," Zehnder said. "The adviser is in the best position to address an issue."
   The parent meetings have helped advisers begin to connect more with their advisees' families and to understand the situations of students. These meetings have been added with the hope that they will provide insight for both parents and advisers.
   "[The meetings] are an opportunity for the parents and the advisers to meet if they haven't already met, talk about the goals that the parents have for their children and familiarize the adviser with those goals," Hempsted said.
   Social Science Teacher Brian Brown has had similar opinions regarding the meetings with the parents of his senior advisees.
   "[I think the parent meetings are helpful to] really get a feel for what the parents' expectations are for their kids," Brown said. "It's a good way for teachers to understand the dynamic between parent and student. It's helpful to know what a kid is experiencing at home and what parents' expectations are and try to help make sure those expectations are met."
   Head of School Byron Lawson began the initiative to increase adviser participation. Lawson said he hopes to improve the process of addressing parents' concerns and taking advice through the one-on-one meetings.
   "Taking a look at the Trinity advisories, I thought there were some places where some information from [the parents] could help us strengthen that student adviser relationship, which would in turn strengthen communications and a whole lot of other counseling areas in which teachers work with students," Lawson said. "So it wasn't 'This needs to change,' but it was 'This needs to take its next step.'"
   Unlike the parent-adviser meetings, students are more directly affected by the change of seating arrangements in chapel. Lawson said that this was done in part to reinforce the relationship between advisers and students as well as give advisers a chance to check in on their advisees.
   "Sometimes proximity breeds trust," Lawson said. "Just being in the same place as your advisees matters. It's hard to know your kids are having a bad day if you haven't seen them. Sometimes you have to just be in the same space with them to understand."
   Brown said that he enjoys being able to reconnect with his advisees and to share the experience of chapel.
   "I think [sitting with my advisory at chapel] is a good way for me to get back in touch with my kids in the middle of the day because I won't see them all," Brown said. "I know that it is taken by the students as a policing measure, and in some ways maybe it is, but I do believe that there is a value to us all getting together and just being together for a period of time, sharing a common experience."
   Parents have voiced their approval of the new change and the unity it promotes among advisories as a whole.
   "As a parent, I like the idea of the students sitting with their advisers and advisories in chapel," Zehnder said. "It seems like it will foster a more family-like cohesiveness of the group."
   So far, parents' and advisers' responses to the changes are very positive regarding both the chapel seating and the parent-adviser meetings. 
    "Parents say they love it," Lawson said. "There's a parent of a sophomore who said 'I knew the school knew my kid. Now I have proof' … The efficiency of a system built with some targeted meetings has been extremely well received by the parent."
   With two new changes already successfully implemented, Lawson has looked into potential future developments that could promote the importance of the adviser in everyday school life. 
    "There are other possible structural implementations, [like] a parent-adviser meeting when it comes time for course selection," Lawson said.
   The entire administration has worked to establish advisers as crucial resources for parents and students. If the original changes continue to produce positive results, it is likely that more will be made to incentivize the interaction and relationship between schools and families through the adviser.