Testing Alternative Assessments
Some English, science and language teachers decide to ditch semester exams.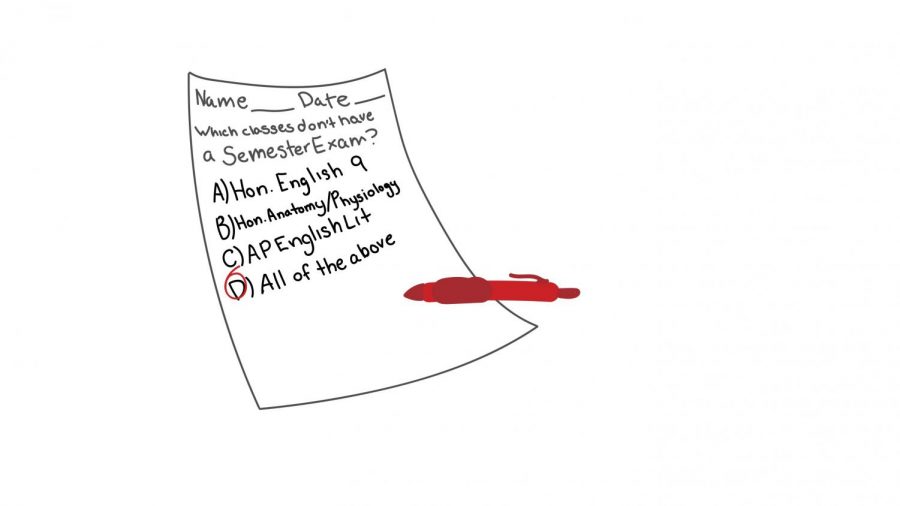 Several teachers are forgoing semester exams for their classes. Ten high school classes are not preparing them: four of them English classes, four science classes and two world language classes. Department chairs, such as English Department Chair Steven Krueger and Science Department Chair Max Meyer, have discussed whether giving exams is the best way to test knowledge obtained throughout the year, but they have also taken into consideration the amount of stress that exams force onto students.
   Krueger is implementing new strategies to challenge his students without an exam.
   "My Honors 9 and Honors 12 classes both have alternatives to exams in the first semester that will have more growth for my students as writers," Krueger said. "They're working on longer projects that allow them to comprehend feedback as well as identify criticisms and give feedback easier. I wanted to focus on those skills, and the exam format doesn't really allow for this."
   Krueger's Honors 9 class will have a portfolio consisting of several different types of writing that his students have worked on throughout the semester. They will choose one of their drafts from their portfolio to focus on and present. The Honors 12 class was assigned an open-ended research paper that allows them to explore other topics in an analytical fashion. This paper was previously existing in addition to the exam, but Krueger said that by making it the semester grade it allows students to put greater attention and focus into their writing.
   "The paper did exist before this year," Krueger said. "However, it freed up space where I had previously been doing other material so that I could expand upon the discussion of research methodology and critical feedback. Hopefully, it will produce better products and a better experience for the students."
   Even though he has decided against semester exams, Krueger said he is not anti-exam and will still continue to offer them next semester.
   "I am preserving the exam opportunity for Honors 9 at the end of the year though," Krueger said. "I think that a combination of ways of assessing people is probably both educationally sound and in the best interest of students because they will still encounter exams in their future."
   AP English Literature teacher Susan Lilley is forgoing the exam for different reasons than Krueger.
   "I have many opportunities during the year for my students to write under pressure," Lilley said. "I can still accomplish my teaching goals without a semester exam that still prepares them for the AP Lit exam while allowing them to study for other exams."
   Lilley is giving an eight- to 10-page research paper focused on topics of the Renaissance in a  literary context.
   "This paper affects them positively for college as well," Lilley said. "They will know how to find scholarly sources as opposed to anything on the internet. They will start college with a range of resources that many college freshmen wouldn't otherwise have."
   Meyer is another teacher who decided to waive the semester exam for both his Honors Anatomy and Physiology and Biology 9 classes.
   "In education, we talk about Bloom's taxonomy, which is a way to characterize the most important types of learning that happen," Meyer said. "At the bottom of Bloom's taxonomy is memorizing facts. If you think about a multiple choice question or even a short answer question, that's something students are good at, but it's low-level. At the top of Bloom's taxonomy is being creative and being able to analyze and criticize an idea, which limits the types of questions you can ask on an exam."
   Meyer's Biology 9 class has been engaged in a two-month-long experiment and the final project is a detailed lab report. As a final assignment for his Anatomy and Physiology class, Meyer is assigning a five- to 10-page paper and a presentation focusing on any topic in the medical field.   
   "I've started to see the concepts being more important than the facts," Meyer said. "What I'm assigning allows me and other teachers to assess how well students can make an argument and how well they can argue from evidence."
   Senior Camille Castillo said she is relieved to be in an English class that doesn't require her to study countless hours for an exam.
   "English has always been the most stressful class for me in the past," Castillo said. "But not having an exam is extremely helpful because retrieving knowledge quickly for an exam isn't going to prepare me for college the way this English project is."
About the Contributor
Josh Lefkowitz, Staff Writer
Josh Lefkowitz is a junior in his first year writing on the Trinity Voice staff in the lifestyles department. When not performing in a theatrical production,...