Griffith Retires After 26 Dedicated Years at Trinity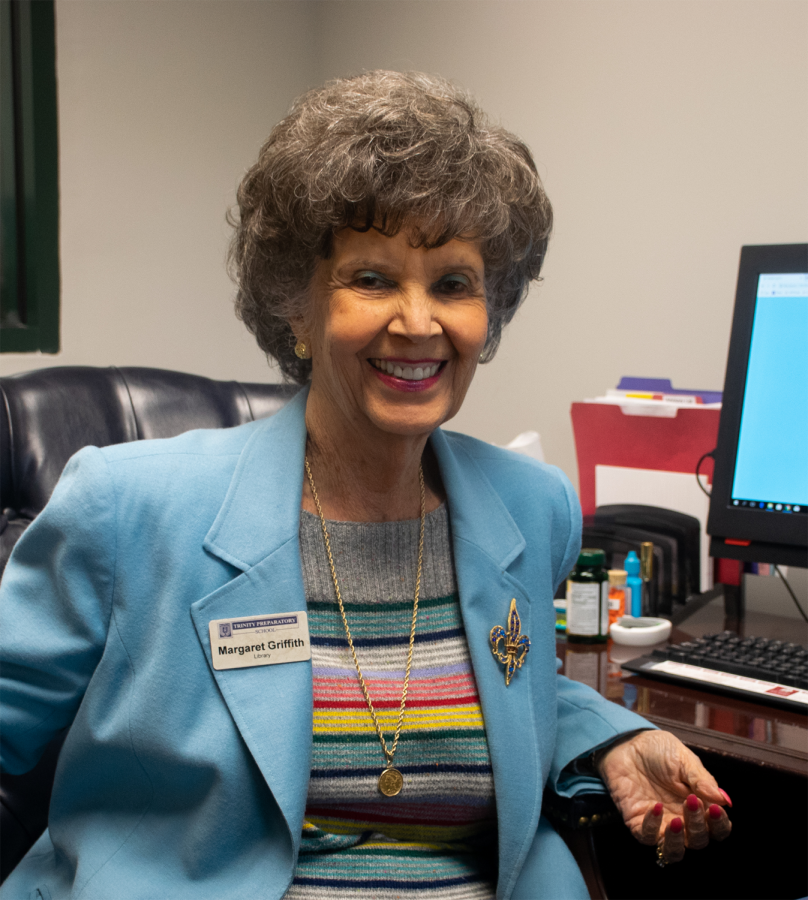 After 26 dedicated years, librarian Margaret Griffith has come to her final days as a Trinity Prep faculty member. Griffith started working at the school in 1993 after moving to Orlando where her daughter was already teaching at TPS. Her daughter encouraged her to send in a resume, and shortly after, she was offered the position as librarian. Not only did her daughter work at the school, but Griffith had the privilege of working at Trinity while three of her grandchildren were students at the school. They were all student assistants for her at one time or another and she said, "They all behaved like grandkids do for grandmothers, and I loved it."
   While working in the library, Griffith watched transform from antiquated to state of the art. She also loves how the library has become a sort of student union where people can interact with each other throughout the day.
   "They love coming here." Griffith said, "They've always loved coming to the library whether they could talk or not because they always talked. And I like it because I don't have to say, 'Be quiet.'"
   Griffith has always loved interacting with all the students that come into the library and when asked what she will miss most about the school, she immediately responded by saying, "The kids." She has also adored getting to know all the teachers and faculty at the school and says she will miss each and every one of the them. Griffith cherishes every relationship she made while working at TPS and said, "I've learned that friends and acquaintances are the most important thing in life."
   While getting to know the students, she was also able to get to know and read many different types and genres of books.
   "I've enjoyed finding new books and reading new books I never thought I would read like young adult books." Griffith said, "I decided I should try them so I could talk to the students about them."
   Throughout the years, Griffith has made countless memories, but she said that the class of 2000's senior prank stood out the most. She had been sitting in the library with Linell Ela when she noticed many black dots on the walls. At first, she couldn't make out what they were but she soon realized they were crickets. The senior class had bought 4,000 bait crickets and released them into the library.
   "After the fact, it is one of the funniest things that has ever happened because they didn't destroy anything and it didn't cause too big of a commotion," Griffith said.
   After many amazing years at the school, Mrs. Griffith has decided to retire. She reached her goal of being 80 years old and still working, and is happy to now be able to spend more time with her family. However, she won't be far and is moving to a condominium near downtown Winter Park where she looks forward to taking walks and enjoying life.
About the Contributors
Caroline Avery, Staff Writer
Caroline Avery is a senior at Trinity and entering her last (but also first) year on the Trinity Voice squad where she will be taking on a position writing...
Bella Lundy, Photographer
Bella is a senior and returning photographer to The Trinity Voice. When she's not running (dying) in the lovely Florida heat you can see her wandering...