New Smyrna Gets A New Look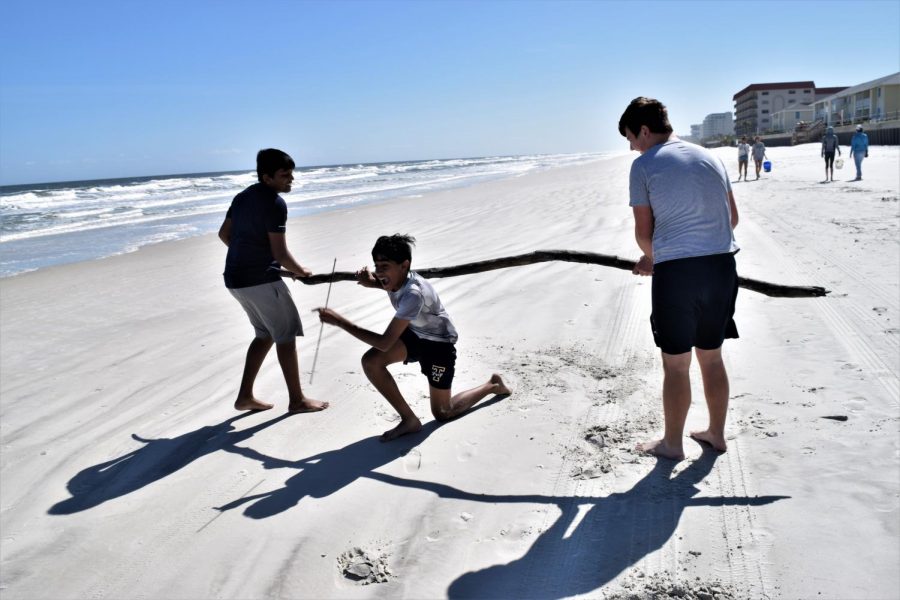 On Feb. 14, 15 Saints walked along a mile-long stretch of the New Smyrna beach to pick up municipal trash and beautify the area.
  Eighth grader Lene Mortimer drove an hour and 40 minutes with her mother and sister to attend the beach clean-up.
  "I think me and my mom both decided to come … when we heard it announced in the assembly," Mortimer said.
  Eighth grader Mason Dowdy and science teacher Carrie Lopez planned the activity. Dowdy wanted to clean the beach for his 20Time Project for his civics class.
  "[My family and I] always come here, and I like the beach," Dowdy said. "There has been a lot of trash, and I thought it would be cool to pick it up."
  Part of Dowdy's interest in the project came from his sister's intention to do something similar.
  "She helped homeless people in her project but had considered also doing the beach cleanup," Dowdy said.
  Lopez, the head of the Surf Riders club, has been coming to this one stretch of beach since 2011. She said that they hoped to inspire people to keep the beach clean in different ways.
  "Besides beautifying the beach, [I want to] show people at the beach to care about the beach, to set an example for other people to follow," Lopez said. "Maybe if other people learn about what we're doing, they will want to do their own beach clean-ups too."
About the Writer
Joseph Paoli, Staff Writer
Joseph Paoli is currently a senior and has been on the Trinity Voice for two years. He is a writer for the News department this year and was a Lifestyles...