College Board Pilots New Programs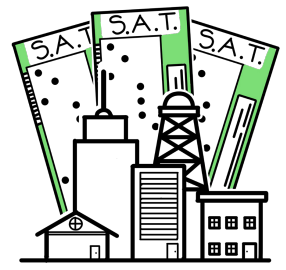 Hang on for a minute...we're trying to find some more stories you might like.
  The College Board has made recent strides in an attempt to make the college admissions process more transparent. They recently implemented new programs, AP Classroom and Landscape, for this year.
AP Classroom
   In order to further prepare students for the 2020 AP exams, College Board has implemented a new system called AP Classroom. By outlining each individual concept that will be covered on the spring exam, AP Classroom allows students to hone in on the specific skills they will be assessed on later in the spring.
   On the platform, students are able to readily access multiple choice and free response questions provided by the College Board and go over all the formatting and material details of their exams. This new platform also serves as a hub for the global AP teacher community so they can easily share resources such as labs, videos and notes.  
   Science Teacher Scottie Smith believes this tool has been very helpful to make sure students are fully aware of the criteria of grading and changes of the exam from previous years.
   "Instead of teaching everything under the sun, it is narrowing the field of what has to be taught," Smith said.
   Last spring, Trinity students had to sit in an hour-long assembly to register for their AP exams. Now, the College Board has made fall registration available online via AP Classroom. 
Landscape
   In May of 2019, the College Board infamously announced the adversity score as a new method of adjusting SAT scores based on the disadvantages or "privileges" of a particular student. After receiving an overwhelming wave of criticism, they abandoned the use of this system, as many believed it was an inaccurate method to contextualize a student's aptitude.
   "I think [the College Board] believes that the adversity score drama was a mischaracterization of what their objectives are," Director of College Counseling LJ Johnson said. "They did a poor job of introducing it to the public. They then dug a hole for themselves because perception becomes reality in the minds of the public."
   To continue recognizing the discrepancies that vary from student to student, the College Board has adopted a new system named Landscape. Instead of calculating a single score like the adversity score system suggested, Landscape will provide information to colleges that the College Board has deemed a factor that affects a student's performance in standardized testing. Such information is directly taken from the statistics of a student's neighborhood/high school and includes locale, median family income, college attendance, etc. 
   Since Trinity is seen as a well-established school, most colleges will not use Landscape as a tool to admit Trinity students; instead, they use a detailed school profile provided by Trinity. Colleges already have ample information from previous alumni to understand the context of Trinity's resources. Colleges will most likely look at a Trinity student's Landscape profile only if they are a first time applicant.  
   Johnson said he has been assured by the College Board that this new system will not be disadvantageous to Trinity students in their admissions process. 
   "We are a resource rich school… those students who take advantage of those resources are well positioned in the marketplace and competition," Johnson said. 
About the Writer
Amy Qiao, Staff Writer
Amy Qiao is a junior entering her second year on the Trinity Voice as News Editor. When she is not writing for News, she is usually found running on the...