Fine Arts Teachers Get Creative with Teaching Methods
     After Spring Break, students found themselves sitting behind computers rather than in school desks. Academic classes transitioned smoothly, but the Fine Arts program was in a tough spot. With their classes mostly focusing on togetherness and harmony, it seemed difficult to have class through laggy and glitchy screens. Various concerts have also been wiped off the calendar. 
     Director of Learning and Instruction Stephanie Dryden helped teachers make the transition to remote learning.
     "Our teachers are quite inventive and creative," Dryden said. "I think that creativity is really important for everyone right now."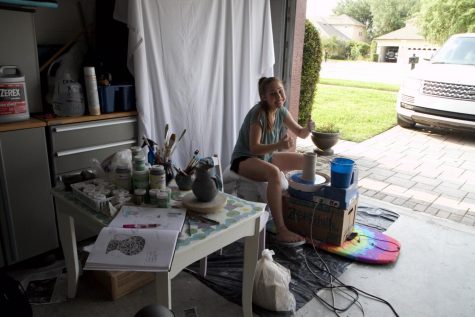 STRINGS
     The orchestra concert, originally scheduled for April 21st, was canceled, but Fine Arts Teacher Maureen May came up with a way to make up for the lost concert.
     For May's upper-level classes, their project was modeled after cellist Yo-Yo Ma's "Songs of Comfort" series, which aims to provide hope and comfort during the current pandemic. Although May's classes have gone remote, her students' projects will all be due on May 6, and they can be viewed now on the school's Instagram account, @trinityprepfl.
     Fortunately, for the remote classes and the comfort concert, the orchestra students were not missing any instruments.
     "I made sure everybody brought their instruments home just in case we came back online," May said. 
     Naturally, there have also been some issues regarding lag and bad connections while having class on Google Meets.
     "I had one moment with my beginning class where I lost electricity at the house," May said. "That wasn't on my troubleshooting list." 
     The whole situation is not ideal, but May said that it might be a beneficial learning experience. 
     "In my situation, there are certainly limits [to what I can do], but for some of the students it's actually been really good, because it's forced them to identify their own personal weaknesses or realize that they would just lean on somebody else to play their own part," May said. "Now they have to just be themselves." 
THEATER
     The school's theater program faced the challenge that acting courses are inherently group-based and harder to adapt to remote learning than others.
     "The biggest production was the all-school musical production of Matilda, which had a huge cast spanning every grade," Fine Arts Teacher Donna Walker said.
     Walker said that although the cast of Matilda worked very hard, it would be better to start fresh next year instead of revisiting the stage production.
     "Everyone involved… was heartbroken that the kids would not get to show the weeks of hard work and rehearsal they had put in," Walker said.
     However, despite the disappointing turnout, Walker and the cast have been optimistic and creative during remote learning.
     "Mrs. Papin created some video opportunities for the students to record and perform some of the musical numbers," Walker said. "Some of them were solo performances by the actors at home, and one was a group number involving the entire cast made by editing together performances recorded individually."
     The Musical Theater Production class has also had to cancel their production of the musical In Transit.
CERAMICS
     For Fine Arts Teacher Vadim Malkin, who teaches ceramics, adapting his higher-level classes for remote learning was easier than adapting his beginner classes.
     "[My higher level students] are working on clay in their homes, just because I want them to keep working on clay stuff instead of doing research projects," Malkin said.
     However, Malkin's beginner level students are less independent with clay, and guiding them virtually is very difficult due to the nature of working with clay. Instead, they are watching videos of pottery competitions and taking notes. 
CHORUS
     The choral concerts, scheduled for May 30th and April 1st, have also been canceled, along with the band, percussion and orchestra concerts. The makeup for the choral concerts is still unknown, but the general idea would be having a grand concert with students recording pieces and putting them together. 
     But, even if the students are all edited together into a choir, one element is still missing.
     "It's more of [an] independent work [class] where you're singing by yourself and then adding it to other people," Select Choir student and seventh-grader Ashley Headrick said. "It produces the same overall effect, but it's not the same feeling when you're with a group of people." 
     The feeling of togetherness is not the only element missing from the concerts. Originally, in the choral concerts, students would normally have around 10 songs to learn, but now they only have to learn two or three. Students who had planned on conducting will be unable to do so. Additionally, for all music courses, it is challenging to combine solo pieces into one coordinated piece. 
BAND
     For some percussion students, the transition from in-person to on-screen is not a hard one to make. 
     "Usually we rehearsed and practiced on our own," Honors Advanced Percussion student and 9th grader Austin Yuan said. "Mr. Beute was just there to make sure we were practicing, so it's kind of the same thing." 
     Students in Advanced Honors Percussion find themselves more fortunate than other classes. While the orchestra has somewhat simple instruments most students would buy themselves, such as the violin, viola and cello, percussion students have some instruments which stay at school, such as the drums, timpani, and marimba. 
     "Luckily, everyone in the Honors Advanced Percussion has an instrument that they can practice on at home," Chong said. "That's really helpful because we don't have to stop playing."
     Originally, band and percussion concerts were going to be hosted on April 16th and on May 2nd, but they were both canceled. To make up for the lost concerts, the band and percussion students are creating video performances of themselves on how they have addressed their weaknesses over the semester.