DiGiovanni leaves the Trinity classroom and the court after three years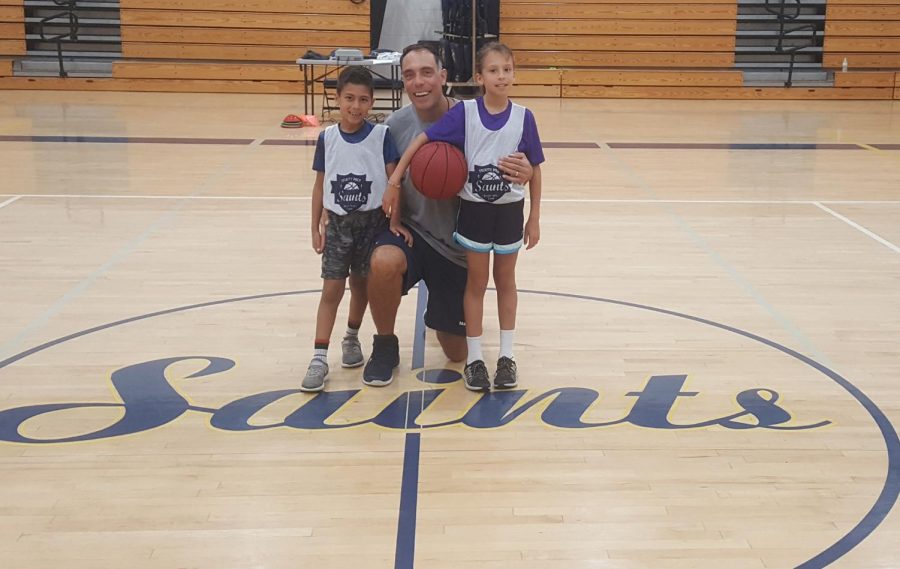 Middle school math teacher Anthony DiGiovanni will be leaving Trinity at the end of this year to return to his home in South Florida, where he plans to continue teaching math. He said that he is sad to leave Trinity, where he's spent the last three years teaching both 6th and 7th grade math and coaching the Varsity boys basketball team. He said his first impression of Trinity was positive as all the students seemed to care about their classes.
   "Obviously the kids at Trinity work hard and they care about their grades but they're so much more than just that," DiGiovanni said. "Now that I've been part of Trinity for three years, I know that our students are deeper than that between their athletics or commitments to the arts."
   DiGiovanni has had firsthand experience with Trinity students' passion for athletics as a coach and program director for the boys basketball team. 
   "I loved working with all the guys," DiGiovanni said. "I'm really going to miss it. From working with the administration, from the teachers and getting support. They were just fabulous. Anytime, I had concerns about something with the program, … I always got the support that any of the teams needed. It was a very, very positive experience."
   Although being both a math teacher and a basketball coach might sound difficult, DiGiovanni said that he's had practice with balancing athletics and academics his whole life.
   "As long as I can remember, there's always been that balance," DiGiovanni said. "I think that's one of the things [you can see] long term when you look at students at Trinity, … they're committed to their school work but they're [also] all committed to some other extracurricular activity. Being able to have those commitments in different areas and find that balance of time … is just a huge skill that the students at Trinity will take with them well beyond their years at Trinity."
   DiGiovanni plans to move back to South Florida and continue teaching math. He said that the things he will miss most about Trinity are his students and colleagues.
   "You know being a middle school teacher, you have [the students] right now," DiGiovanni. "Then you look forward to being able to see them when they're in 11th or 12th grade and [are getting] ready to go to college. You see that whole development. It's unfortunate I'm going to miss some of that with the kids."
   He also said he's made many great memories, both on and off the court.
   "In basketball this year, we had a terrific win against a post grad team out of Maryland; a team we probably shouldn't have even scheduled," DiGiovanni said. "It was just a bunch of men in layup lines, every single one of them was dunking. They were looking down at us trying to intimidate us. And we ended up winning the game. It was just a great David vs. Goliath moment for our guys. … I'll remember that for years."