Loudon Brings Her Mathematical and Musical Expertise to Trinity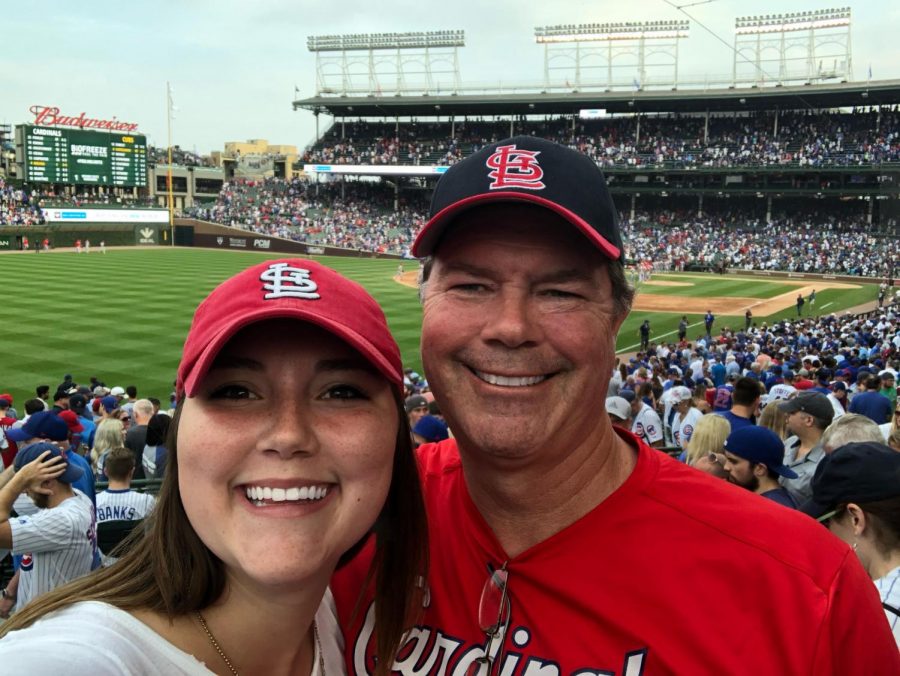 Mathematics teacher Amanda Loudon teaches Geometry and Expanded Math Concepts. This school year will be her first full year of teaching, as she taught remotely during the spring of 2020 and has also been a teaching assistant for a college professor.   
   She got into math because her dad is very "math-minded." Also, her first grade teacher was extraordinary and taught her third grade math, while teaching her to really learn the concepts and understanding the material.  
   Loudon first wanted to go into elementary education, but after taking AP Calculus her senior year of high school, she decided to pursue a degree in mathematics. Because her AP Calculus teacher went out of her way to help her study on Sundays and did whatever it took to help her students, she was inspired to study mathematics, which was not even her favorite subject until she took AP Calculus. 
   "Her [AP Calculus teacher] model of what a teacher should be is definitely up there in terms of the kind of teacher I aspire to be," Loudon said. 
   During her freshman year at the University of Missouri, her fear of math went away. She doesn't care what type of math she teaches, she just wanted to teach math. 
   She received her degree in mathematics and education from her undergrad and then she received her master's degree in math from Loyola University Chicago.  
   Loudon said she fell in love with Trinity's campus, which she said reminded her of her high school experience. She loves that Trinity is creating an environment of hard work and kindness. 
   Loudon said she is very humbled to be able to work here and feels that she belongs here. She loves getting to know the other faculty members. 
   "[Trinity] felt like a place where I would be an asset and appreciated," Loudon said.
   She focuses on teaching through her own strengths, specifically focusing on her work with music and groupwork. "Jubilee Music" helped her with group work and the understanding of how it relieves stress from students. 
   "Jubilee Music" is a musical therapy session for children with and without learning disabilities. Loudon volunteered for this program when she was a freshman in highschool.    
   "Jubilee Music fostered positive communication between students with special learning differences and those without. Most of the students were somewhere on the autism spectrum, but there were several students with down syndrome," Loudon said.
   Loudon has an adopted cousin with Down Syndrome, which enabled her to become successful with the students. 
   "Musical therapy has been proven to be especially effective in aiding children with learning differences in communication and calming anxieties. We can use music to express our emotions. The program was also about reducing stigma and overcoming the "unfamiliar." When we embrace our differences, we can empathize more with the "other,"" Loudon said.
   Loudon loves incorporating other learning styles as well.
   "I am usually a huge proponent of group work as well as I feel that we really learn best when were having to work with other people, because that way if one of our peers is struggling to understand a concept we have to explain and when we have to explain something that reforms for us that we do know what we're talking about," Loudon said.
   She also recommends Youtube videos with a song or rhyme of some kind. 
   "Because we all learn differently, I try to give opportunities for these intelligences in my class by finding a Youtube video with a song or teaching hand motions to remember something, or encouraging students to stand and stretch midway through a lesson," Loudon said. 
   Loudon likes to find ways to do interdisciplinary work and project-based learning.
   Not only does Loudon have a degree in math and education, she also has a theater minor. When she was growing up she loved theatre. Loudon said she would love to be involved with the Theatre department here at Trinity.
   Loudon hopes her students remember her as a welcoming and understanding teacher. 
   "I hope to be thought of as a teacher who provides a safe place to learn – whether that's through successes or failures. I hope to encourage students to think of math as something they can do as opposed to something they can't," Loudon said.