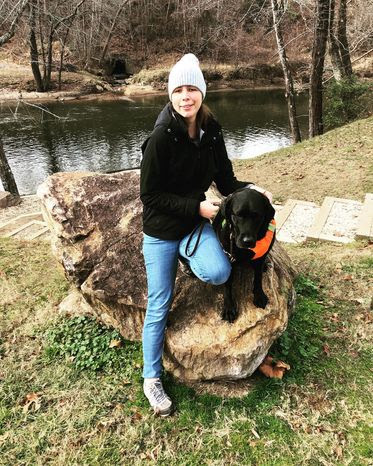 New English teacher Kaley Faris's class starts to prepare for their upcoming reading test. As she is reviewing with her students, some of them are happily distracted by someone in the corner: Anakin, her seeing-eye dog. Anakin helps Faris, who was born with vision loss, navigate around campus as well as the classroom. 
   Before coming to Trinity, Faris earned her masters from Florida State University, where she taught two classes a semester. There, she fell in love with teaching through sharing literature and writing skills. She went on to teach mainly high school students at the Holy Cross Lutheran Academy, where she was the English Department Chair for sixth through 12th grade. 
   Currently, Faris is teaching Honors English 11 as a part of the Trinity Prep English Department. Through her years in the classroom, Faris has found tools to magnify items on her laptop, allowing her to navigate through Canvas. She also has her students say their names instead of raising their hands, and she repeats their names to call on them.
   "I have come to adapt, and I'm happy that my learning strategies can translate so I can help people find different ways of learning based on their own abilities," Faris said. 
   Additionally, she tries to establish a positive rapport with her students. 
   "I really try and create an honest community where students turn in their cell phones and things like that," Faris said. 
   Her seeing-eye dog, Anakin, accompanies her inside and outside the classroom. Faris has had Anakin since college, obtaining him from the Guiding Eyes for the Blind. She had to go through a tedious process. 
   "I first had to turn in documentation," Faris said. "Then someone came all the way to Tallahassee where I was living at the time and did an interview with me. They watched me walk. They talked to me about my daily schedule, and they determined a baseline to determine what dog would best suit my needs."
   After a 3-month wait, she was able to finally meet her new furry friend.
   "I was paired with Anakin and we began working together and we fell in love," Faris said. "He's a good boy. I've had him now for four years. He will be six in October."
   Outside of the classroom environment, Faris is more than a teacher; she is an avid explorer. Faris enjoys hiking with Anakin, scuba-diving and writing for pleasure in her spare time. Before teaching, she went to Madrid for six weeks where she strengthened her Spanish.
  "I'm good at drawing which surprises people," Faris said. "When it's cooler [Anakin and I] like to go for hikes. I like, in my spare time, to read. I have some writing projects I've been working on things like that."
   At Trinity, she is excited to be in an environment where she can think out of the box. 
   "I'm very happy to be in a place where I can really work on one grade level and developing my lessons in a creative and thorough manner," Faris said.