Home is where the heart is
Trinity's sports teams claim locker rooms, training rooms and bathrooms for their own in the name of tradition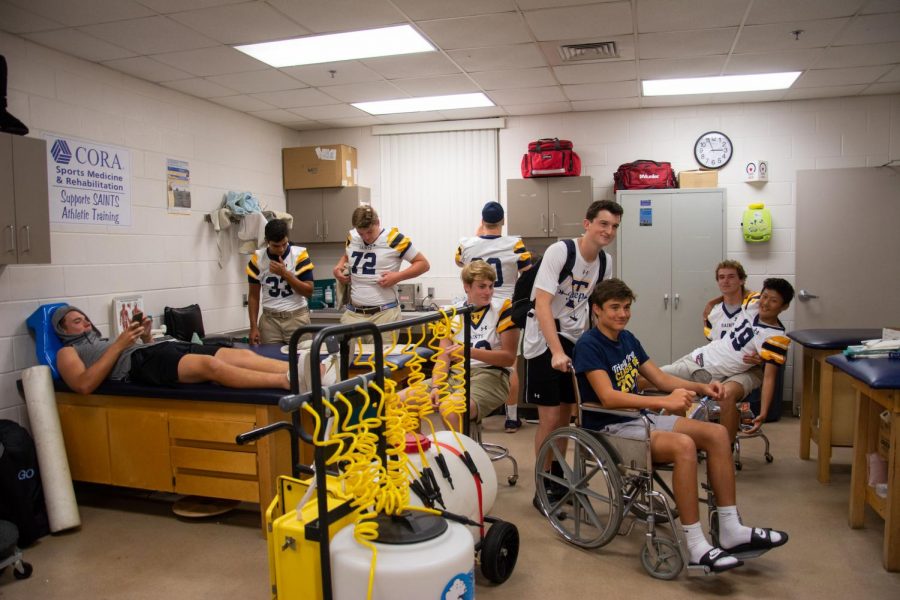 Everyone loves a good tradition. They bring us together, whether it's an annual tradition, like watching football and eating turkey on Thanksgiving, or a daily tradition, like parking next to your friends in senior parking. Many family traditions revolve around places, such as going skiing on spring break or visiting grandparents for the holidays. Trinity is no exception to this rule, as we have location-centered school traditions, such as the rock and senior parking. Varsity sports teams for the Saints each have their own set of rules and traditions that bring them closer together, like a family on Thanksgiving.
   The Saints' football team's tradition is fairly simple. It has become a habit for the majority of the team to visit head athletic trainer Jeff Foraglia before and after most practices and games. "Before practices, there will be five to ten people in his room," starting quarterback Spencer Fetter said. "At games, everyone will go in his room at least once before kickoff." 
   While Foragilia is a trainer first, many of the players have developed a friendship with him and will go into his room even if they aren't hurt.
    "Everybody loves Jeff," Fetter said. "I've never met someone who doesn't enjoy being around him. He's a cool guy." Foragilia leaves an almost coach-like impact on the players that leave. Class of 2016 graduate and former Trinity Prep defender Daniel Stein sums up the relationships best.
   "Jeff not only heals players physically, but also mentally and emotionally," Stein said. Of course this doesn't strictly apply to the football team, as nearly every player at Trinity will interact with Foragilia at some point or another, yet for the football players, it is something special. According to Fetter, the tradition has been going on for years and he does not believe that it will stop anytime soon.

  "People have been hanging around in Jeff's room since before I got to Trinity in sixth grade," Fetter said. "The younger players will definitely continue this tradition of going to the training room as long as he stays at Trinity."
  The girls' varsity swim team has a different tradition, yet with the same sense of emotional weight behind it. They use the girls' locker room in the RAC as opposed to the typical girls' varsity locker room. It is for a good reason, according to senior swimmer Victoria Woolworth.

  "In past years, swimmers would be really weird about it because it's just really hard to share with the cross country team," Woolworth said. "They'd come in with their grassy feet before us, and we'd come in after and get all wet, and it turns to mud on the floor."

  The swimmers also use this locker room as a sort of meeting place after school. It is before big meets, however, that the locker room becomes a true tradition.

  "We consider districts to be our biggest meet, because it's more of a team meet," Woolworth said. "Since it is our biggest meet, all the parents will come in and decorate the locker room. Then, Rocco and our parents throw us a party."

  The boys' cross country team has been the most dominant team on Trinity's campus for the last decade, at least. At one time going for four straight state championships, the squad has had countless runners go on to run at the collegiate level. Though there are too many traditions to cover, one tradition in particular stands out above the rest and could possibly play a role in the team's dominance.

  "Unlike a lot of other teams, we kind of like to say we have our own locker room, which is just the bathroom by the DAC," senior runner Will Driscoll said.

  Another runner, senior Chris Wilhelm, believes that the bathroom is more than just a space to change.
  "Changing in the bathroom helps the team grow closer," Wilhelm said. "It gives us a place to hangout before we need to go to practice or to an important meet."

  Similar to the football team, this unique bathroom tradition has been going on for quite a while. According to Driscoll, it has been happening for a least a decade. Is it a coincidence that the team has been dominant since the tradition began? Probably, but still the allure surround the DAC bathroom marks it as cross country territory.

  "Sometimes people will come in there and we're like 'woah, what are you doing'," Driscoll said. "They tend to get the message pretty quick that this is a cross country area. We're not trying to kick people out of the bathroom. If you've gotta go to the bathroom, you should go. It's just kind of an established thing for a lot of sports that you don't really go in there because we're in there."

  These traditions bind together the teams of the past, present and future for the rest of their lives, and will continue to live on as new players and runners take up the mantel.
About the Contributors
Will Langdon, News Writer
Will Langdon is a currently a junior going into his first year on The Trinity Voice staff. He is writing on the news staff with his good bud Ishan. He...
Bella Lundy, Photographer
Bella is a senior and returning photographer to The Trinity Voice. When she's not running (dying) in the lovely Florida heat you can see her wandering...