Piper Harris named world champion wakeboarder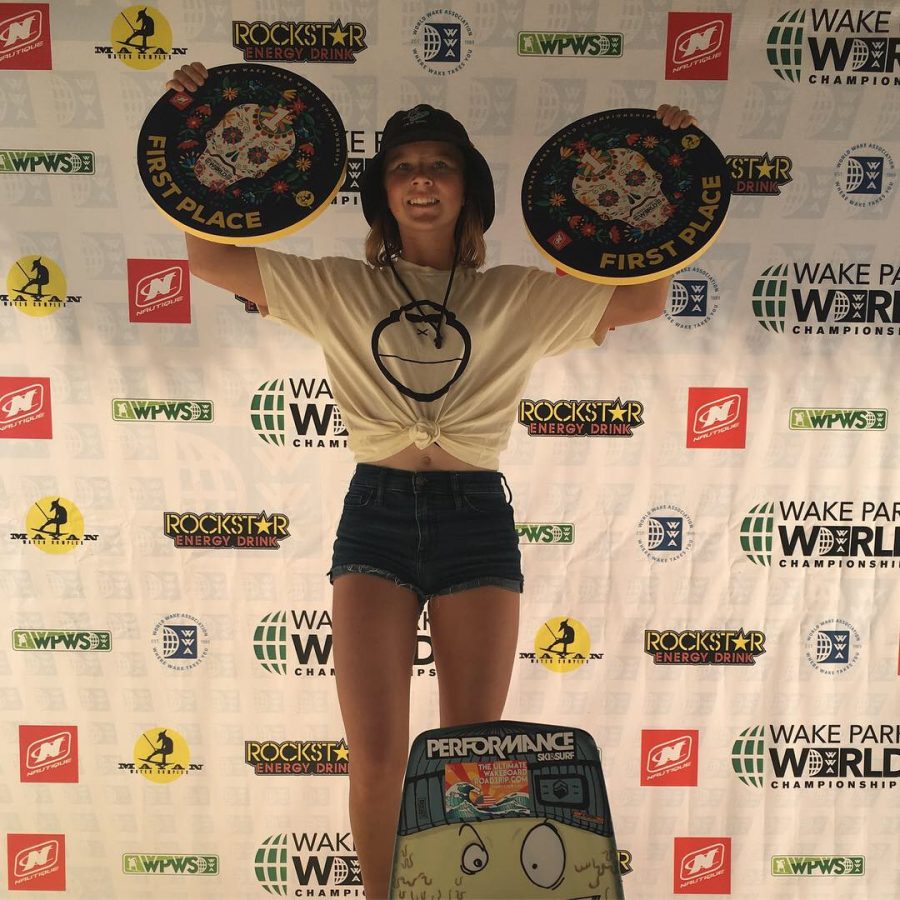 Many young athletes dream of becoming an Olympian or world champion in a sport, but junior Piper Harris has already achieved this goal at the age of 16. She traveled to Mexico this past November to compete in the world wakeboarding championships and was named Junior Women's World Champion and Open Women's Features World Champion.
  Harris started wakeboarding lessons at the age of nine, when her mother's friend had a Groupon for the kid's club at Orlando Watersports Complex.
  "That's how I first started," Harris said. "They were on Saturdays before the park opened, and they would run it slow. I did that the whole summer. That's how I got into it—[it] was a Groupon."
  Harris continued to wakeboard and started competing when she was 12 years old. As she improved, she began to take the sport more seriously and trained more often.
  "I started getting really serious probably about two years ago," Harris said.
  Harris competes from March to November. She trains all day during the summer and most of the afternoon during the school year. Though wakeboarding keeps her very busy, Harris also has to balance all of her school work.
  "My teachers work with me to make sure that I don't get too stressed or too overworked, while being able to do my sport," Harris said.
  Along with the stress of balancing Trinity's rigorous academics with wakeboarding, Harris has been faced with the added challenges of being a female in a male-dominated sport.
  "When I'm not at really big competitions, sometimes I'll be the only girl there, which I don't mind riding against boys, but it [deters] other girls from wanting to come," Harris said. "In order to be a girl and to be considered good, you have to ride so much harder to prove [to others]that you're good."
  Not only does Harris feel pressure to perform her best, but if she goes professional, which most girls at her age and level do, she expects to make significantly less than her male competitors, according to Harris.
  Although Harris is sometimes treated differently than the boys, that doesn't stop her from pursuing her dreams. Wakeboarding has enabled her to travel all over the world.
  "My best memory would probably be the Philippines," Harris said. "It was completely different than anything I've ever done or any event I've been to. It also gave me the chance to meet people [from] all over the world. I might not have been able to go to the Philippines if it wasn't for this competition."
  Harris is grateful that her parents have supported her since the beginning and that her dad travels to most of the major competitions. She was especially excited that her mom was there to cheer her on as she competed in and won the world championships.
  "It was really nice for her to be there when I got my world champion title because that's a big deal," Harris said.
  From representing companies like SunBum, which makes sunscreen and hair products, to becoming the youngest American female to try a double flip, wakeboarding world champion Piper Harris has accomplished more in her sport at 16 years old than most people ever do. She hopes to become a professional wakeboarder next year and to continue wakeboarding in the future.
  "I didn't think it would have as much of an impact as it has," Harris said. "It's allowed me to travel the world at such a young age, which I never thought would be possible, and it's also given me the opportunities to meet people all around the world that I would have never known if I wasn't in this sport."