Predictions for the College Football Playoff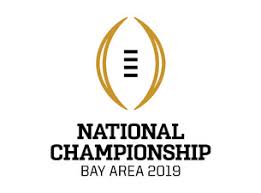 Semifinal Game
 1 Alabama Crimson Tide (13-0) vs. Oklahoma Sooners(12-1)
No one has been able to stop the freight train that is Alabama so far this season, so why will this game be any different? The closest to come to stopping the Tide was Georgia, and they still came up short. While Oklahoma may have the offensive firepower to keep up with Bama, the Sooners have a swiss cheese of a defense and will not be able to slow down quarterback phenom Tua Tagovailoa. Also, Oklahoma has yet to play a defense like Alabama's. While I believe Heisman winner Kyler Murray will be able to score on the defense, it will not be nearly enough to overcome his own team's deficiencies and Nick Saban will cruise to yet another National Championship game. Roll Tide.
Final Score Prediction: Alabama: 56 Oklahoma: 24
Michael Hull, Managing Editor
Semifinal Game
 2 Clemson Tigers (13-0) vs. Notre Dame Fighting Irish (12-0)
  Notre Dame is a fraud of a football team, and one of the worst undefeated teams in recent memory. Last time Notre Dame made the playoff or championship, they were embarrassed fully by Nick Saban and the Crimson Tide. Now, Notre Dame will be destroyed and out-manned by Dabo Swinney and the Tigers. While at the start of the year Notre Dame's schedule seemed solid–games against Stanford, Michigan, FSU, and USC–however, these games have proved nothing, as most of these teams have had their worst seasons in recent memory. Notre Dame has barely beaten weak FBS opponents, and their one major win against Michigan was the first game of the season, at home, versus a new quarterback that was injured. Clemson, on the other hand, is a serious title contender, with the offense, defense, and coaching to compete with Alabama. Don't be fooled by Notre Dame's undefeated record or listen to their bandwagon fans, it's a sham. Final Score prediction: 45-21.
Drew Miller, Opinions Editor
National Championship Game
 1 Alabama Crimson Tide (13-0) vs. 2 Clemson Tigers (13-0)
  While it may seem boring that this would be the 4th consecutive year featuring a playoff matchup between Alabama and Clemson, it is undeniable that this unofficial rivalry is as entertaining as it gets. Alabama has been the most dominant team in recent memory this year and has an undefeated record to show for it. Led by starlet sophomore quarterback Tua Tagovailoa, and backed by impressive running and receiving cores, Alabama has one of the most explosive offenses in the country, scoring 48 points a game on average. But even more key in this matchup is Alabama's stingy defense which allows under 300 yards and only 15 points a game. However, don't expect a blowout. What Clemson lacks in star power, they possess in overall team performance. They average almost identical points per game and yards per game as Alabama. Expect Tagovailoa to shine and Clemson's star running back Travis Etienne to be disrupted in the first half. The Voice predicts the 4th quarter will end with an Alabama go-ahead touchdown, giving them an 18th national championship and their 6th under Head Coach Nick Saban. Final score prediction: 35-31.
Ryan Zehnder, Staff Writer
About the Writers
Drew Miller, Opinions Editor
Standing at 6'4", Drew Miller is a senior entering his third year on the staff. Miller is the Opinions Editor this year but still has a love for sports...
Ryan Zehnder, Editor-in-Chief
Ryan Zehnder is a senior entering his third and final year on staff. He is currently co-Editor in chief and an occasional contributor to the Opinions department....