Saints at Home: Spring Sports Adapt to Isolation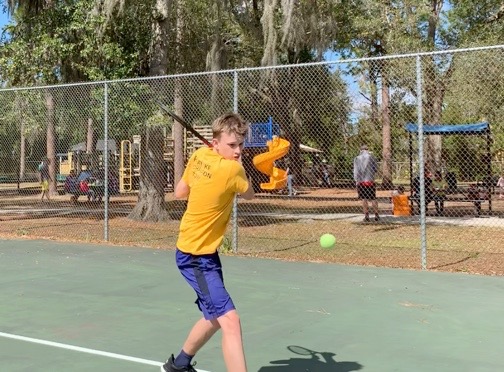 As the final quarter of school began, spring athletes headed into their district and state championships hoping to break records and advance through those competitions. Freshman and varsity track athlete Aetant Prakash had been planning to go sub 4:40 on the mile race, a time that would show his season-long hard work had paid off. However, when schools and sports were canceled, Prakash and the rest of the team were left unable to achieve their goals.
"Right now, everything is postponed," varsity track and field coach Sara Dowdy said.
Up until April 20th, none of the coaches had been given a straight answer to what would happen regarding the rescheduling of the postseason because of the uncertainty surrounding the coronavirus.
"The general consensus is if schools ever reopen, then [FHSAA] will have a postseason," varsity boys weightlifting head coach Isiah Cabal said.
However, with Governor Desantis announcing on April 18th that public schools would remain closed for the rest of the year, the FHSAA decided to officially cancel any potential postseason competitions and hopes to start the 2020-21 season in the fall.
Now, many of Trinity's athletes are left wondering what to do throughout this quarantine.
"For the first week, we didn't want the athletes to do anything so that they could get used to remote learning, and then we would start integrating workouts," Assistant Athletic Director Rita Kienle said.
Each sport requires different types of training, and some are harder than others to adapt to home workouts. Nonetheless, coaches are working with their athletes to make this transition as smooth as possible.
"For lacrosse, they can do wall ball, baseball kids can do batting practices in their backyard, so there are lots of ways they can get out there," Kienle said.
Babyak has also told his athletes about playing tennis using a wall but says that at their current level, it is most effective to use a court with people.
"I think a lot of tennis courts are still open, and so I'm encouraging them to play if they feel safe doing so," Babyak said.
Students like sophomore and varsity tennis athlete Lachlan Bill are aware of this and trying to make the most of it.
"Now, I'm just going out and doing stuff at courts on my own with other people," Bill said. 
Sports that normally train with a lot of equipment, such as weightlifting, are having to change the most.
Cabal said he hopes that his lifters can rest and recover throughout this time, as it won't be as easy to achieve hypertrophy, the stressing and rebuilding of muscle fibers that lead to muscle growth, at home in the same way that training in a gym does.
"I've sent out links to workouts that can be done using only your bodyweight, but a sport like ours requires hypertrophy which is hard to accomplish when you don't have access to a barbell," Cabal said.
These workouts are somewhat similar to what Spectrum Trainer and Trinity Prep's Strength Coach Daniel Sharvit is posting on Trinity's social media pages. They consist of movements like squats, pushups, ab exercises, pull-ups, and various form of cardio.
"Daniel is giving us workouts, and we are putting those on Instagram and Facebook," Kienle said. "These are for every student-athlete, not just the spring athletes, because at this time you gotta get up and move."
When compared to the other spring sports, it seems as if track runners have had the least amount of change.
"Our coach sends out workouts in text and we find a place to run," Prakash said.
Prakash says they are luckier than other sports but that they still can't do all the usual workouts
"You can replicate some of our workouts if you can get to a track, but if not, it has to be modified or not done at all. So at this point, I'm just focusing on cross country for next season and so are my other teammates." 
Because of these obstacles in the way, many athletes like Prakash are moving on from this shortened season to thinking about their next season, whether it is a different sport or a club season. 
Kienle said it is important for the athletes to do physical activity during this quarantine, but most importantly, to make sure students are adapting to this big change.
"Right now, the main goal is for the coaches and athletes' [relationships] to grow and help with their mental health," Kienle said.