Trinity Joins New Sports League
Local private schools form Citrus League for fall sports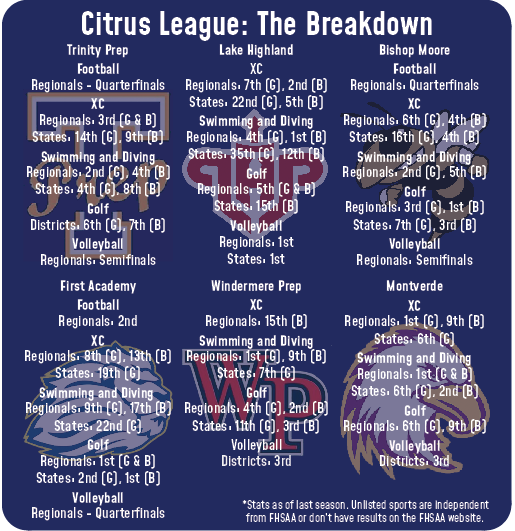 After a recent vote carried out by the Florida High School Athletic Association (FHSAA), Florida has decided to resume its fall high school sports. However, with the possibility of a COVID-19 outbreak, sports can't just return to normal. In an attempt to keep athletes safe and provide them with an actual season, Trinity Prep has decided to join the Citrus League.
   "Right when the pandemic hit, a group of athletic directors and I started talking," Athletic Director and assistant football coach David Langdon said. "We discussed strategies on how to handle different COVID-19 related issues, and eventually came up with the idea for the Citrus League."
   The league consists of Trinity Prep, Bishop Moore, Lake Highland Prep, The First Academy, Windermere Prep and Montverde Academy. With safety at its roots, the league is an attempt to group like-minded schools. Not only do these schools tend to be on a similar level both academically and athletically, but they also have the same COVID-19 protocols. This way, the possibility of outbreaks is mitigated.
   In addition to this, the Citrus League operates on a weekly rotation, meaning each week, schools will be paired up with only one other school. For example, if it was Trinity Prep's turn to play Lake Highland, the two schools would play each other that entire week in all fall sports. The next week, Trinity would get assigned a new school within the league to play, and so on and so forth.
   "If [an outbreak] does happen, this weekly rotation gives us the flexibility to do what we need to do," Langdon said. "When we're confined to one team per week, it's much easier to trace potential outbreaks."
   For sports like football, this one school per week schedule is already the norm. However, for sports like volleyball, who typically play 2 or 3 different schools each week, it will take some adjusting. Although some sports will still play multiple games per week, all of these will be against the same school.
   "Seeing the same team more than once a week will make the games more difficult," said senior volleyball captain Jordan Hardy. "Each of the teams will be more familiar with each other, so it will be harder to prepare."
   From a coaching standpoint, Langdon acknowledged that this is not the ideal scenario. But, with both teams having to play under the same circumstances, it shouldn't make too much of an impact.
   The plan is to continue this weekly rotation up until the start of playoffs. At this time, the league will break from its bubble and begin a modified postseason. While specifics for this are still being worked out, the teams in the Citrus League are all FHSAA eligible and will be able to participate in their respective post-seasons.
   As of now, the Citrus League is only in place for fall sports and the winter and spring sports are still on schedule for a normal season. However, Langdon doesn't want the league to stop here.
   "Our dream is to take [the league] even farther," said Langdon. "In addition to the FHSAA post-season, we could have our athletes compete for another title, a Citrus League conference title."
   Whether or not the Citrus League continues into next year or even into winter and spring sports, is still very much up for discussion. Regardless, it's great to say that sports have returned to Trinity Prep.
   "I'm just excited to get back on the field," senior football captain Travis Pavel said.