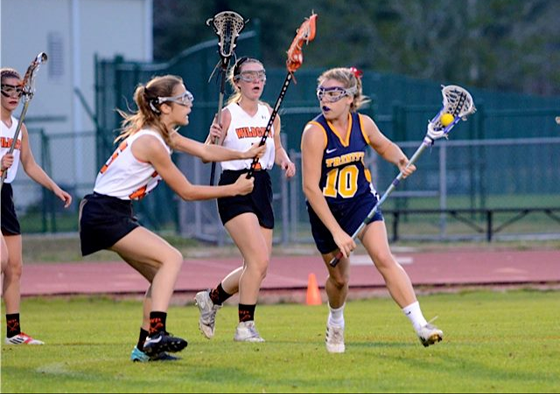 When thinking of lacrosse, most minds immediately jump to only Lax Bros, but on this campus maybe they should be thinking of the gals.
Only two years ago, Girls Lacrosse wasn't even on campus.  When they were sophomores, Kelsie Glinski-Boyd and Annie Gigliotti went to Coach Finnucan in hopes of starting a lacrosse team.  Originally, they were turned down due to a lack of interest.
Their next move was to try to play for the boys team.  That request was another impossibility; however the girls didn't stop there.  They got teacher Rita Kienle on board to back them.  Kienle said that she and her husband, Tom Kienle, had always wanted to bring a lacrosse program to the school.  It's safe to say it was an easy decision for her to help Glinksi-Boyd and Gigliotti.
Looking to show a clear interest for a team, Glinski-Boyd, Gigliotti and Kienle started a petition of girls wanting a  lacrosse team.  They got about 20 girls to sign up.  Eventually the expressed interest was enough for there to be a team, and the girls were ecstatic to hear the news.
"I was so happy because I love lacrosse and getting to play has been one of my best memories of [high school]," Gigliotti said.
However, because of school policy, they had to start as a JV team and, only after 2 years, add a varsity team.  Kienle was chosen to coach them through the JV years.
Now that those two years are over, Girls Lacrosse is finally getting the varsity nod.
Glinski-Boyd thinks it was worth the two year wait because it helped open the program to girls of all ages.  Rather than just being a varsity team, the JV years allowed middle school students to play, which ultimately helped develop the program, according to Glinski-Boyd.
Despite being JV, the team still played a number of varsity teams from across the state.  This experience and their two-year record of 22-4 is why the team believes it's ready for the increased competition.
Kienle agrees that the team is ready to be varsity.
"The girls have worked incredibly hard during the season and in the off season to stay fit," Kienle said.
She especially likes that most players cross train through club lacrosse, volleyball, soccer and weightlifting.  Kienle believes this helps sculpt them into more well-rounded athletes.   Coach Kienle also commented on the team's determination.
"With the dedication and work ethic the coaches and players bring to practice every day, there is no limit to what they can accomplish," Kienle said.
Another key reason the team thinks they're ready is their team chemistry, which comes with their familiarity with one another.
"[Many of us] have been playing together [for four years] which makes things easier," Glinski-Boyd said.
Pre-game dinners are also enjoyed by the team and contribute to their unity.
"[The dinners] give us quality team bonding time before each game," Glinski-Boyd said.
To help them adjust to becoming a varsity team, Katie Palasz and Maura Imel, former Rollins College lacrosse players, were hired as the new coaches.  The players say they may come off intimidating at first, but they believe the coaches are the real deal.
"[The new coaches] may be young, but they bring a wealth of knowledge of the game and a passion to play and coach," Kienle said.
Coach Kienle will be coaching the middle school team along with her husband with the specific intent of improving the younger players' skills to be ready for varsity.  They believe a strong middle school team to support the newly established varsity one will build a program to ensure future success.  She also added that the lacrosse coaches consider themselves a coaching unit rather than limited to only the varsity or middle school.
"We are happy to stay on as the middle school coaches… and are thrilled to coach the younger girls," Kienle said.
Considering the varsity upgrade and new coach, there is certainly a lot of excitement from the players.  Not only are they going to be competitive, but they are expected to have a lot of success.
"If we all work our hardest by conditioning and working on stick skills, we definitely can be district champs," Glinski-Boyd said.