Swimmers dive into national pool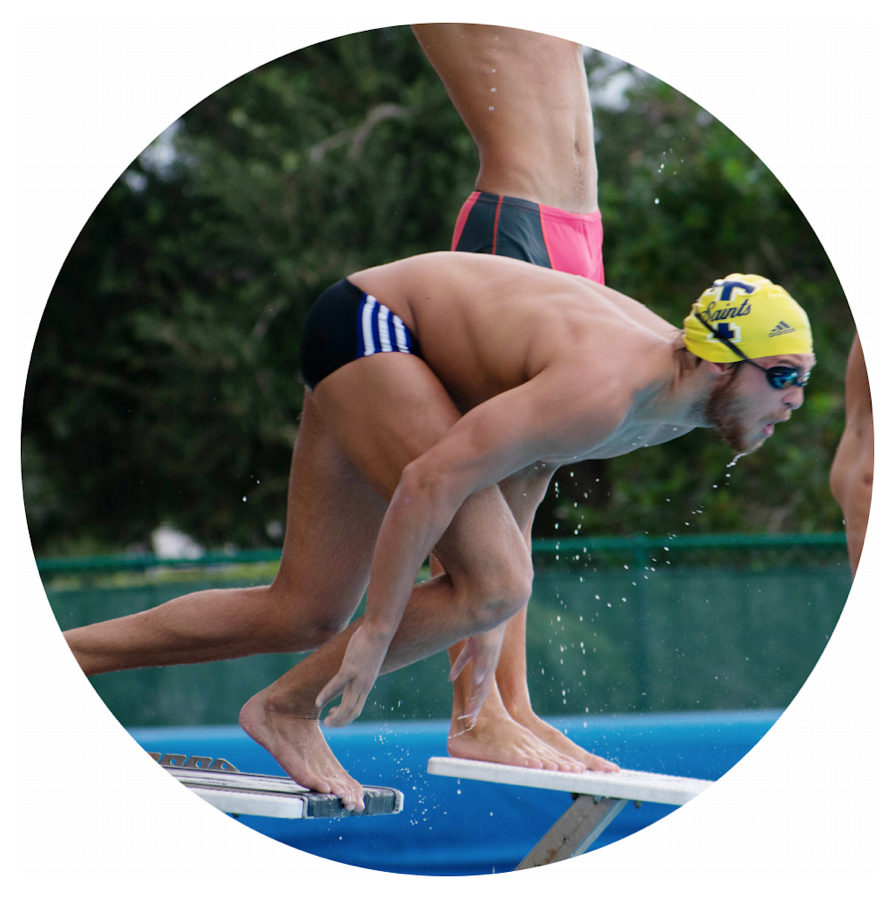 In recent years, Trinity Prep has had many exceptionally dominant athletics programs that routinely win district, regional and state honors in their respective sports. But, Varsity swimming is undoubtedly in the upper echelon of Trinity athletics when it comes to results. Trinity's swim team has excelled in districts and beyond for years now, but this year, Trinity swimming also has three nationally ranked record breakers in their impressive arsenal of athletes. Senior swimmer Jan Collazo, and Junior swimmers Jenessa Schwarz and Luke Uttley all are nationally ranked in their respective events and hold numerous school, meet and pool records.
   "Jan was blessed with the correct DNA, Luke is a fierce competitor, and Jenessa is a very extreme perfectionist," head swimming coach Rocco Aceto said.
   Aceto describes himself as having "unwavering expectations", which he says is a key reason for the swimming team's success. The swimmers also attribute their success to their long hours of hard work in the pool and in the weight room. They all swim before school on Mondays for about an hour, lift weights on Tuesdays and Thursdays before school, practice after school every day and even practice on Saturday mornings. With weekly meets, competitions, and academic expectations, it's fair to say that Collazo, Schwarz and Uttley are dedicated to their craft.
   "It's something I know that I'm good at and want to continue to improve in," Collazo says. "I also think I could maybe go to the Olympics for swimming".
   Collazo is originally from Puerto Rico, where he started swimming at a young age. Collazo has represented Puerto Rico in a number of international tournaments and hopes to continue that after high school. Collazo also competed in Junior Worlds, a meet where respective countries send swimmers to compete across other teenagers from across the globe. Collazo was one of only ten representatives from Puerto Rico.
   "I believe I can swim in the Olympics," Collazo says.
   He says that the possibility of representing his home country keeps him in the pool for long hours every week.
   Collazo is currently ranked number one in the nation in his age group for his two best events: the 50-meter freestyle and the 100-meter freestyle.
   Schwarz also competes at an exceptionally high level for her age group. She is currently nationally ranked in her age group and has competed in numerous relays on a state level. Schwarz earned 5th place in the 100 meter breaststroke and 8th place in the 100 meter freestyle at states.
   "I really grew to have a passion for it," Schwarz said. "I turned from something I had fun doing to something I love doing."
   Schwarz said that the harder she has worked and the more time she puts into swimming, the more competitive she has become, which in turn only makes her work harder. Aceto said Schwarz is a perfectionist, which is especially useful for a highly technical sport such as swimming, where technique is almost everything.
   Uttley is the third high performer on the swimming team who is nationally ranked in his events. He was a state champion in the 200 meter freestyle relay and the 400 meter freestyle relay last year. Last year, he won best in the state for the 100 meter freestyle, beating out teammate Collazo who placed second.
   "I love the sport, and I like to win," Uttley said. "Swimming is very special to me."
   Last year, Uttley broke the school record for the 100 meter freestyle. However, just a few months later, Collazo broke the record again. Uttley and others on the team have also repeatedly broken the school record for the 200 meter freestyle over the last 2 years.