"Thunderhead": An Amazing Sequel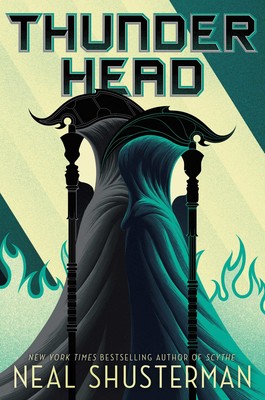 On November 5, the long-awaited  third installment of "The Arc of the Scythe" trilogy, "The Toll," will be released. So, if you have read "Scythe" and enjoyed it, this book is for you.
"Thunderhead" by Neal Shusterman is the second installment of "The Arc of the Scythe" series. This series takes place in a futuristic utopia where a benevolent A.I. called the Thunderhead has united humanity. Also, the Thunderhead has brought humanity to a point of almost immortality with only a few remaining causes of natural death left. Though, since efforts to colonize space have failed, people still need to die to prevent overpopulation. To solve this, people were appointed as scythes and tasked with the job of killing  to balance the population.
"Thunderhead" brings back Citra and Rowan. Rowan is a scythe apprentice who has gone rogue and taken the nickname of Scythe Lucifer.  He warns corrupt scythes to stop their misdeeds, or be burned by fire, one of the few remaining methods of natural death. Also, Citra comes back as Scythe Anastasia, who is a young and smart scythe who is finding her place in the Scythedom and trying to fight the corruption taking root inside it. 
Also, "Thunderhead" introduces two new characters, Greyson Tolliver and Munira Atrushi. Greyson Tolliver is an up-and-coming agent for the Thunderhead, who jeopardizes his career to protect two scythes. Because of the fact that this contact between scythes and agents of the Thunderhead is illegal, he becomes an unsavory, essentially a criminal, and helps to spy for the Thunderhead. "Thunderhead" also brings Munira Atrushi: a new minor character who is a rejected scythe's apprentice who works at the Library of Alexandria. She helps Scythe Faraday find something lost to the Scythedom's history. 
"Thunderhead" is an entrancing book that expands on the plot of the first book and shows more of the post-death utopia of "Thunderhead." Also, the plot is laid out so that it takes you through the interesting twist and turns of the book, before revealing the finishing cliffhanger that has been building up since the start, leaving the reader thirsty for a sequel. 
But don't just take my word for it, Kirkus Reviews said that "Thunderhead" is "intelligent and entertaining." 
Overall, you should read this book because of its amazing setting and additions to the world of "The Arc of the Scythe" series, as well as its masterfully laid out plot. "Thunderhead" is in many ways arguably better than it's prequel "Scythe," an amazing book in its own right. This book gets a 9.5 out of 10.