Not monkeying around: "Kong: Skull Island" Review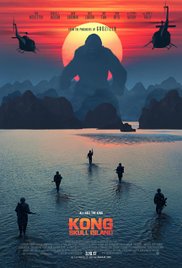 Hang on for a minute...we're trying to find some more stories you might like.
   Director Jordan Vogt-Roberts turns the character of King Kong on its head in Kong: Skull Island, making the monster the hero rather than the villain.
   The year is 1973, and it's the end of the Vietnam War. Lieutenant Colonel Packard (Samuel L. Jackson) has just been given one more mission to go and explore a mysterious southern pacific isle named Skull Island. Along with a group of scientists, a survivalist( Tom Hiddleston), and a photographer (Brie Larson), Packard and his men venture into this mysterious island not knowing it's Kong's domain. After dropping seismic charges for geological study and awakening the King himself, the group of explorers divides into two factions setting up the rest of the plot to unfold.
   With one faction set on killing Kong and the other on saving him, the plot develops into a storyline that intrigues the viewer. It's a metaphor for society in general, with one group of people always resorting to violence as the answer, and another relying on peace as the best method. Kong himself is portrayed as a sort of hero in this film as he's the defender of Skull Island itself. It's a great new way of changing the perception of King Kong.
   "Where there's just this embedded beauty and sadness in his life [that] takes him away from just being a big gorilla and takes him away from just being a monster and turns him into this god-like figure," Vogt-Roberts said to Entertainment Tonight.
   Along with introducing moments of comedy to relieve the intense action scenes, this movie is sure to have you on the edge of your seat. With stellar acting from the main cast, a plot that entices, and a monster that you can feel for, this movie is bound to satisfy, and I completely recommended it if you're a fan of action-based films. The movie is a great one, and with a sequel planned to incorporate Godzilla into the picture there is definitely more on the way.