A more modern take on Christmas music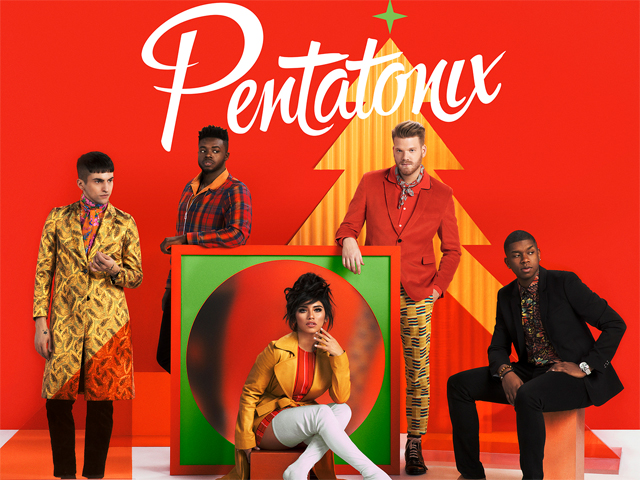 Sia : "Everyday is Christmas"
Sia's "Everyday is Christmas" is her first holiday-themed album. This album portrays much of her typical style of songwriting. In her previously released albums such as "This is Acting" and "1000 Forms of Fear", Sia strings together contrasting feelings into her songs. Similarly, in her Christmas album, she mixes upbeat, lighthearted tunes with melancholy, emotional beats. Through her control of the chords and tunes, she speaks to the listener and communicates an array of emotions through her songs.
Pentatonix
The Aca-pella group Pentatonix is known for reinventing classical Christmas music. Over the past few years, the group has released a total of four Christmas albums, with one being released just recently in November of this year. Each album is filled with classics and originals written by the band. What makes their albums worth a listen and easy to fall in love with, is because of the unique twists they incorporate into their songs. The band adds countermelodies and changes time signatures of original songs which creates a new song, while still maintaining the classical aspect of it. In their original songs, they still incorporate contrasting melodies and include a holiday vibe which makes them quite memorable. 
John Legend : "A Legendary Christmas"
John Legend's "A Legendary Christmas" takes a different approach when it comes to the overall mood of the music. His songs such as 'What Christmas Means to Me', 'Silver Bells', and 'Chestnuts' gives an 80's jazzy vibe. This funky twist turns a Christmas original into a John Legend classic. Songs such as 'Bring Me Love' and 'No Place Like Home' create a more warm, comforting feeling as these tracks are the perfect fireplace songs. John Legend's album contains a variety of pieces that capture the holiday spirit in a multitude of ways which makes this the perfect go-to album for any holiday occasion.