Enola Holmes, Appreciated but Overdone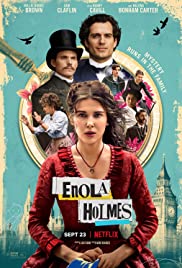 Breakout Stranger Things star Millie Bobby Brown has hit the Netflix stage again in Enola Holmes. Brown, who co-produced the film with Mary Parent, plays Enola Holmes, the sister of Sherlock Holmes, who is a young detective in search for her missing mother. The film features heavy feminist themes, as Enola refuses to "become a lady," and her mother fights for women's suffrage in 19th century England.
   At the beginning of the movie, Enola, which spelled backwards is alone, is coping with her mother's disappearance. We learn that her mother trained her to be very smart by learning science, martial arts, and deciphering codes. Immediately, Enola goes on a quest to find her, disguising herself as a boy. The young girl encounters many obstacles and meets teenage boy Lord Tewksbury, who attempts to run away from his government position. Together, they must help each other out of trouble with wit and determination.
   The plot is enjoyable, but the problem is the storyline is too enjoyable—I've experienced it one too many times. I feel like I've watched the same plot over and over again with different actors. A young girl centuries ago doesn't want to conform to societal pressures and would rather live an adventurous life without a man, and despite the people around her who want her to fail, somehow she outsmarts everyone in the end.
   For example, Enola is sent to a finishing school for girls against her will, much like in Riverdale when Cheryl is sent to a conversion therapy camp and in Pretty Little Liars when the girls are put in an insane asylum. The same story is getting old.
   That's not to say that I didn't like parts of the movie. The sets were beautifully intricate, and the acting, for the most part, was spot-on. I also appreciated some elements that we usually don't see in movies, like how Millie Bobby Brown would specifically look at the camera as Enola to talk to the viewers about her plan.
   Overall, the movie had its ups and downs. Would I recommend it? I think so. Would I watch all two hours of it again? Definitely not. But, in a time when the fate of movie theaters around the country is in jeopardy, I'll take all the cinema that I can get.
Leave a Comment
About the Contributor
SIDNEY SEYBOLD, Lifestyles Editor
Sidney Seybold is returning for her third and final year on staff as a senior. She is the Lifestyles Department Editor for the second year in a row as...