Review of Taylor Swift's Album "Lover"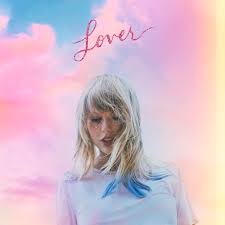 If you didn't jam out to Taylor Swift's "Our Song" on your mom's iPod when you were younger, what were you doing in 2009? Swift has been a vital part of so many young womens' lives, inspiring us in "Teardrops on My Guitar," "Shake it Off," and her latest album Lover. Through her heartfelt music and painfully true lyrics, we have seen Swift grow and mature into the artist she is today. Swift's latest album entitled Lover is by far her most grown-up and progressive one yet.
   The first song she dropped from Lover was a collaboration with Brendon Urie from Panic! At the Disco called "ME!" Fans were excited that Swift was finally releasing new music after two years, however, personally I thought the song was sub-par. The music video, filled with an array of pastel colors, paint globs, and, in typical Taylor Swift fashion, cats. Not to take away from her eight (yes eight) Grammys, but I found the song and music video stellarly mediocre at best. She tried, she really did, but the lyrics weren't nearly as memorable as her previous songs like "Begin Again" from 2012, and the music video didn't leave me with the same amazement as did "End Game" in 2017.
   Now before I get sued for incompetence, let me defend myself. The album was brilliant…the second time around. I must admit, the first time I listened to it, at least 15 out of the 18 tracks sounded the same to me, because they pretty much are. Let's just say that Taylor Swift has a type. To be fair, I was quite sleep-deprived, but the second time I listened to it, when I really heard the different techniques and bold choices she hand-crafted to fit each song, that was when I had hit something really special. My musical knowledge goes about to the extent that I can find the C note on a piano if the stars are aligned, but I knew the songs were different than anything she had ever done. Not to mention "You Need to Calm Down" was literally everything. 
   The general buzz I was hearing when the album dropped was that "The Man" was a must-hear, and "Lover" was spectacular, however, I thought they were, again, good but not amazing. The songs I really connected with were "Miss Americana and the Heartbreak Prince," "Paper Rings," and "Cornelia Street." Now these are pure underrated musical experiences. "Miss Americana and the Heartbreak Prince," while being quite a mouthful to say, took me to a place deep in the depths of a strange memory that I've never had but always wanted. I'm in high school and there's weird lights everywhere with Taylor Swift walking down the halls in slow motion, her hair perfectly fluttering in the wind that magically appears in the hallway. Just me? Well, the song was amazing, and it gave me hope that Swift still had real talent, unlike her tragic 2014 somehow hit "Out of the Woods," which had about as much creativity as Kylie Jenner's entire vocabulary.
   At this point, I've now offended teenage girls and lipgloss enthusiasts everywhere. But what can I say? I've got a type. 2012 Taylor—now that's a woman. Am I overly critical? Yes. Will I still automatically praise everything she does solely because it's her? Absolutely. But everything aside, the singer-songwriter could write a one-track album about the yogurt she had for breakfast, and she would enjoy no less praise than any other album before. Why? Because she's Taylor Swift. She's iconic, she's inspiring, she's…classic. She represents everything we want but can't have—a world where Pop still reigns over Rap, where Youtube is just the place you go to to stream free music, and where red lipstick and singing about boys isn't demoralizing to women, it's American. She's a living, breathing 2010. She has been a constant part of growing up for this generation, someone who will never ever go out of style.
About the Writer
SIDNEY SEYBOLD, LIFESTYLES EDITOR
Sidney Seybold is a junior at Trinity Prep and is currently the Lifestyles department editor. She also loves basketball, writing poetry and Best Buddies,...