COVID-19 Alters Homecoming Traditions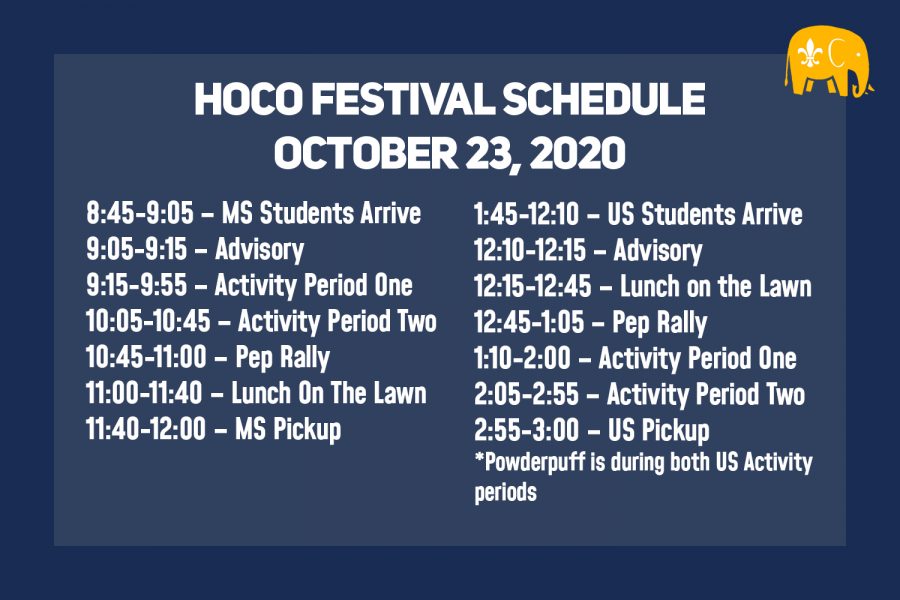 Homecoming is the center of excitement for Trinity Prep students every new school year. This year is especially significant as it marks the 50th anniversary of our football team's first victory. Celebrating the return of alumni, current and former students enjoy this week of activities and look forward to them year round. But in the wake of the COVID-19 pandemic, Homecoming plans have been drastically altered to ensure the health of the student body and their families at home. 
   The Trinity faculty and student council have been working to preserve the spirit of this year's Homecoming. Despite the cancellation of the annual dance, student council has planned a creative new way to celebrate. 
   In most recent years, parents and boosters have planned and funded a carnival for the students on the day of the homecoming football game. According to Guidance Counselor and Varsity Cheer Head Coach Rylan Smith, this year's carnival was planned by a combination of boosters, TPO patrons and the school. 
   This special Homecoming festival (HoCo Fest 2020) will take place October 23 and encompass a wider variety of activities as well as Powderpuff. As students will not be attending classes that day, there is a special schedule in place. The Middle School Festival will be held from 9:00 to 11:30, while the Upper School Festival will be from 12:30 to 3:00. 
   Changes have been made in order for students to celebrate Homecoming in a safe, outdoor environment. The student government will be providing entertainment for all interests including art, fun games and a variety of competitions. Some other activities students may see are inflatables, lawn games, paddle boards, canoes and trivia.
   Along with these fun-filled activities, the Junior vs. Senior Powder Puff Game will be played, and the annual Homecoming Court nominations will be presented. 
   Each Powderpuff team will be allowed two practice dates to prepare for their game. Along with the players, junior and senior boys had the chance to sign up to be a coach for either of their teams. 
   As of now, the boys are not allowed to participate in the annual cheer or dance performance. However, other options are being explored to continue this tradition while still following COVID-19 guidelines. 
   On the night reserved for the Homecoming dance, World Languages Teacher and Student Activities Chair Kyle McGimsey plans for a more COVID-19 compliant event to take place.
   "Instead of a dance, we are going to do a movie night in the quad for juniors and seniors to attend," McGimsey said. 
   He hopes for a fun night and good weather so the students can come together as a community and celebrate in a new way. 
   To keep the student body's spirits up for the HoCo Fest, Spirit Week will take place during the week of October 19th. The themes for each day are Zoo Day, Disney vs. Nickelodeon, Space Cowboys, Artists and Athletes, and finally Blue and Gold Day. 
   Along with dressing to fit each day's theme, student government will be holding a grade level competition to replace the annual float parade.
   "Each upper school class will be assigned a different building to decorate based off of a spirit week theme," Junior Class President Alexia Steinberg said. "The winner of the hallway contest will earn class cup points." 
   This contest is a safe way to incorporate both spirit and competition into one but still being cautious of social distancing requirements. 
   Despite many challenges, Trinity will still be able to celebrate Homecoming 2020. With new, creative events for the student community to come together, the Trinity family has the opportunity to experience this special year.
   "Everyone's goal right now is to bring as much of the traditional homecoming activities that we love and know and modify them to work with our current time," Student Body President Thomas Lightsey said.
About the Writer
Cate Williams,
Cate Williams is currently a junior entering her first year on staff where she will be taking a position writing for the sports department. During her...