The Kwammentary: What the shell?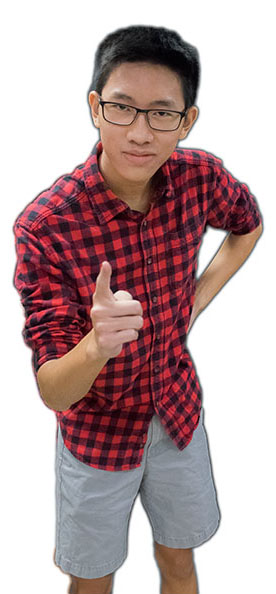 Hang on for a minute...we're trying to find some more stories you might like.
As a certified Asian, I used to be able to say with utmost confidence that our campus had perfect feng-shui. However, just as the golden age of the Galactic Republic in "Star Wars" was ended by an angsty Jedi with issues letting go and qualms about the coarseness of sand, so has the balance of Trinity Prep's campus been disturbed by some godforsaken shells.
The aesthetic of the Trinity campus could previously have been described as an exercise in balance. It was comprised of appropriately juxtaposed factors that afforded Trinity both an appreciably quaint atmosphere and significant good vibes.
For instance, the splendid concrete buildings and sprawling sidewalks contrasted perfectly with peculiarly amputated trees and rare, though still appreciated, patches of grass. Such factors worked together to cleverly mask the fact that the campus was actually built on an otherwise aesthetically displeasing swamp.
I never would have imagined that I would be able to witness the wonderful rebirth of Atlantis in my lifetime. However, as I watch what can best be described as a battle for dominance between land and sea or, more specifically, mud and shell shards, I must remind myself that such an experience isn't quite as awe-inspiring as it might sound. In fact, it is a daily assault on my senses.
First, let's go over the most obviously violated sense: sight. While I can't say I've been fortunate enough to view (or know of, for that matter) a naturally-occurring beach entirely composed of shells, I can say that the attempted replication of such an experience is as satisfying as being served a Lunchables in a five-star restaurant after a two-hour wait. The shells are either caked in mud, covered in mud or just plain-old replaced with mud. Such an aesthetic assaults my eyes like a pair of glasses without lenses.
Touch is my second traumatized sense. Trinity's shells need to take some calcium supplements, because they are brittle as heck. They crack, they shatter and they leave shell dust all over the bottom of my shoes. Furthermore, such shell shards spring up and into my shoes when I end up walking across our local Great Barrier Reef in an attempt to find any path to my classes that doesn't involve a two mile hike, resulting in a very dissatisfying experience.
Look. We may have all posted "New Year, new me" on our various social media accounts back in January, but we have to remember that new isn't necessarily good (see: Miley Cyrus). With the school year coming to an end, there's no better time for us to learn from our mistakes, take a step forward, and banish these mud-covered shells from both our memory and our campus.