Technology Taken to the Extreme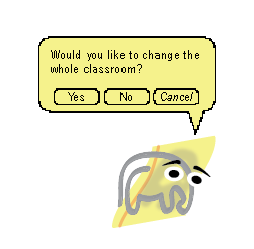 Late last year, UCF's Department of Modeling and Simulation performed a study on Trinity's campus. Thirteen students volunteered to use an Oculus or virtual-reality headset to test if lab skills learned virtually could transfer into real-life applications. While some students could easily maneuver through the game, others struggled with the controls, felt side effects such as nausea or dizziness and experienced technological issues on the headset. 
   Even though virtual reality is not routinely used in classrooms, other technology has been cemented into curricula. Whether it's taking tests on Canvas, typing essays on Google Docs or making flashcards on Quizlet, almost every part of the classroom that was originally on paper has transitioned into its online counterpart. 
   This transition has made schoolwork more accessible and organized; with technology there are no loose papers being shoved in backpacks or homework assignments unable to be found. However, as school technology advances, the disadvantages of an overreliance on technology could be pushed aside.
   The appeal of a flashy new tool can overtake how practical that tool actually is. Virtual reality seems like a good way to introduce students to performing dangerous experiments in a controlled setting, but those techniques learned through virtual reality aren't necessarily carried into real life. The UCF study only tested students with previous lab experience, but there is still little information on how students with little experience would learn on the headset. Schools need to remain hesitant on adding new tools to the classroom unless they have been adequately studied, as the consequences for our students can be dire.
   During the pandemic when virtual classrooms were essential, a poll by Common Sense Media and Survey Monkey found that 59 percent of teens felt that online school was worse than traditional school. While some students said the main downside of online learning was missing social interaction, the majority's concern was the fact that they felt they could not learn well online. Students would stare at a screen for hours to learn a lesson to then continue to stare at the blue light to do assignments only to repeat it the next day; a Google meet was not the same as face-to-face interaction. 
   Technology should be used as a complement to teaching, not a replacement. Virtual learning was a temporary solution to a problem, but if we allow technology to grow too fast while being unchecked then the same problems of students struggling with little human interaction could arise.
   "Technology is not a skill set. It's a tool that helps inform a skill set," English teacher Hannah Schuttler said. "Sometimes we get so excited about the new fancy tool that we forget that it's merely a tool to help students achieve a skill or some kind of knowledge. I don't want them to know how to use Kahoot. I want them to use Kahoot to learn vocabulary."   
   Technology in the classroom also remains too centered on the student's experience rather than the teacher who has to utilize that technology. 
   According to a survey done by the EdWeek Research Center, nearly two-thirds of teachers said they were experiencing technology fatigue, which is a burnout that occurs when people have to rely too heavily on technology. Teachers cannot be expected to learn how to use new tools, implement them and be able to solve issues that might arise for them.
   While we should be cautious of technology, there are still many benefits that can come from it. Review games such as Kahoot or Gimkit are great ways for students to practice using the information they are taught. It also makes collaboration easier such as sharing a Google Doc or being able to easily send a teacher an e-mail if you need help.
   A virtual-reality headset could also allow students in a French class to virtually travel to France and converse with other French students or allow history students to travel to museums around the world.
   "What I'm seeing like for the Oculus that I think is more interesting is an enrichment type of activity," science department chair Romina Jannotti said. "For instance, there is an app of [a museum of] Anne Frank's house, where you can tour Frank's house on the Oculus. I've never been to Amsterdam or to Anne Frank's house, but I had a student who went on it and she's been there, and she told me that they let you see things in the Oculus and go in places where they don't let you go in real life." 
   Many teachers have already begun to successfully balance technology with more traditional methods of teaching. For example, Schlutter tries to incorporate technology into her seventh grade classes to help them learn how to use technology in a school environment, but with her ninth graders she takes a different approach.  
    "With the ninth graders, I start out using less technology to reset and really think about how they do things and how they study," Schuttler said. "Is a Quizlet really the best option or is it just the easiest one? How they complete assignments? Is it that I need a Google Doc? Is it easier to do it on the computer? Or is it because that's just how it was given to me?"
   Encouraging students to explore different methods of learning will help them find which one will suit them best. The classroom cannot be reliant on strictly pen and paper, but it also cannot be reliant on technology. There must be a blend of both to produce the most optimal environment for students. The classroom uses technology, technology does not use the classroom.