A Double Life: Florida Man's True Identity Revealed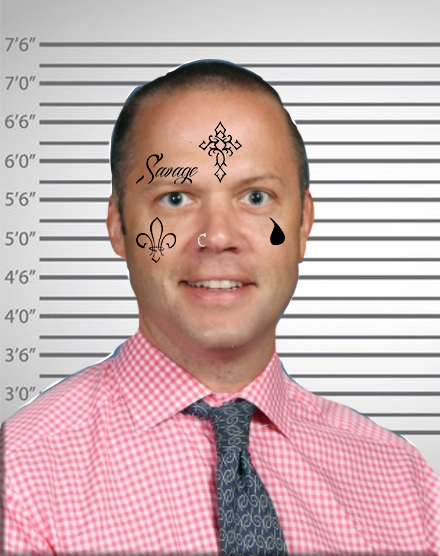 Famously known as "Florida Man," Patrick Mulloy has finally been apprehended. Approximately 5'4," Florida man was at last caught freeing Mrs. Massey-Burmeister's fish at 4:30 A.M. on Tuesday. He was wandering around Trinity's campus in his "weekend clothes": khakis, loafers, and a needlepoint belt. Over several months, the perpetrator was seen committing many crimes around Central Florida and campus.
  As seen in his mugshot, Mulloy has been covering his face tattoos with makeup. This timeline is fuzzy, but officials know that he has had these tattoos since working at Trinity. 
"  He has what looks like a Fleur de Lis under his right eye and the Traits of what it means to be a Saint under his left," Orlando Police Chief Robert Boerth said. "Letters to spell out HONOR CODE are on his knuckles as well."
  "Once we took him into the station, he took off his dress clothes to reveal a lime green tank top and flamingo board shorts and the bottoms of his feet were black," Boerth said.
  After heavily investigating, the police found Florida Man's underground social media profiles. His handle: @stpattysboy.1968 on Twitter and @charlie_brown_fan on Facebook. Under the alias of "Upper school principal," he had previously not been suspected as the culprit because of his weekly kindness initiatives. 
  Once word of his planned arrest reached the alleged "Florida man," he tendered his resignation and claimed he was going away for a while. Authorities say he is being transported to a correctional facility in Maryland, or as he likes to call it St. Nicholas School for Naughty Boys. 
Witness Testimonials:
"I noticed concealer on his desk a few weeks ago. It all makes sense now." –Mrs. Olin
"He's always talking about generosity and respect. Felt like a cover-up." -Mr. Boerth
"I follow @stpattysboy.1968 on Twitter, it's just Harambe memes." -Anonymous
"Wait, what did you want me to say?" –Anna Miliotes
For more information about Florida Man and his other crimes click the links below!
Florida man fights alligator while he recites what it means to be a saint.

Florida man robs gas station then talks about generosity.

Florida Man fights crane then does backflip off of the bell tower