March Madness sleeper teams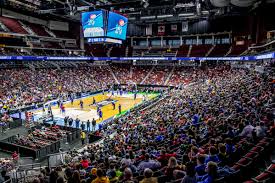 After a year of mediocre football, boring baseball and plain basketball, it is finally here. The moment that all sports fans, all casual observers and practically the whole population (besides maybe employers) has all been waiting for is here; it's March Madness time.
  After the selection show last Sunday evening on ESPN, all anybody has really talked about is their predictions and their brackets. I know this firsthand, as I have spent countless hours through the past few days researching, planning, discussing and ultimately creating my bracket for the 2018 NCAA tournament. Through my research, consisting of articles and some game tape, I have found a few bracket busting sleeper teams to watch out for while putting the final touches on your bracket.
Creighton
Defense wins championships, but in March Madness, offense pulls off the upsets and creates the runs. Yes, Virginia is a solid pick to go far in the tournament due to their stifling defense; however, are they fun to watch? Unless grinding out the shot clock the whole game is entertaining to you, the answer seems to be no. On the other hand, Creighton is one of the most dynamic teams in the country, averaging 84.3 points per game and ranking 15th in the country in offensive efficiency. Further, this team has strong guard play led by senior Marcus Foster and junior Khyri Thomas. Foster averages a solid 20.3 points per game, shooting 42.2 percent from outside the arc. Khyri Thomas has garnered major NBA attention in his junior year, and this is very well deserved. He is ranked 17th by nbadraft.net analyst Aran Smith's 2018 prospect big board and has all the tools necessary to succeed at the next level. He is a lights out shooter with the great composure needed in big games. With the lights out offense and two solid upperclassman manning the guard positions, Creighton is in a prime spot to beat Kansas State and make a strong run at Virginia.           
Seton Hall
Seton Hall is another eight seed that I like to make a run at the top seed in their bracket. Seton Hall started off hot, but have since fallen cold. This makes them a perfect sleeper, as many view them as an easy first round loss. One reason I like Seton Hall this year is their stud center Angel Delgado. This 6 foot 10 inch beast is practically unstoppable in the post, averaging a double double this season, consisting of 13.3 points per game and 11.6 rebounds per game. The Dominican Republic native has a strong motor and is an unstoppable offensive rebounder. He is even a solid passer, averaging 2.7 assists per game. With Delgado in the post and solid guards Myles Powell and Darnell Edge, Seton Hall has a chance against anybody.     
Saint Bonaventure           
Well, it wasn't pretty. However, in March Madness, a win is and win. Saint Bonaventure relied on their defense for the first round win against UCLA. Their star player, Jaylen Adams, struggled mightily, shooting 2-16 from the field and 0-5 from three. Forward Courtney Stockard picked up the slack, scoring 26 points. What is important here is that with their star player having the worst game of his career, they still won. The pieces around him supported him through his struggles, and if he can right the ship against Florida, this will be an incredibly interesting team in this tournament.                      
About the Contributor
Drew Miller, Opinions Editor
Standing at 6'4", Drew Miller is a senior entering his third year on the staff. Miller is the Opinions Editor this year but still has a love for sports...