"Santa Clarita Diet" Review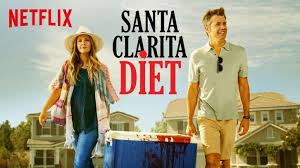 Hang on for a minute...we're trying to find some more stories you might like.
   Once again, Netflix has provided us with another gut-wrenchingly hilarious TV show—"Santa Clarita Diet." In this comical TV show, realtors Sheila Hammond (Drew Barrymore) and Joel Hammond (Timothy Olyphant) are a married couple living in Santa Clarita, California. They have a daughter named Abby and they live a fairly normal life—well, apart from the fact that Sheila eats people. After Sheila has a vomit attack and becomes a zombie, she now finds herself craving human flesh. When her husband finds out, he is forced to readjust to his wife's new diet, but he is also determined to find a cure to return them to their normal life.  Sheila's new diet also makes her more spontaneous and fearless. Throughout the show, Joel and Sheila try to find terrible people to kill so that Sheila can survive until they find a cure. This show takes the audience on a wild adventure with meaningful moments, lots of laughing and oh yeah…lots of blood!
   Although this show guarantees many laughs, it also serves as a platform to discuss marriage and change. After finding out that his wife is a zombie, Joel struggles to adjust to this newly impulsive and confident Sheila. He also attempts to fulfill his wife's needs by having to help her kill people. Joel has difficulty realizing that this is no longer his highschool sweetheart and that his life is completely changed. The couple experiences many bumps in the road on their way, but the one thing that keeps them together is the hope to find a cure. This zombie-mom trying to live a normal life for her family also speaks about normalcy and conformity. Living in a small cul-de-sac in Santa Clarita, the Hammonds try to hide their secret from the rest of their neighborhood and their daughter. Eventually, their daughter Abby figures out, but what bonds them together is the fact that they accept they are not a normal family and they never will be. They learn to love each other for who they are even if that means having a mom that eventually eats her neighbor.  
   Behind the laughs that this show inspires, it also finds a way to explore more serious topics such as marriage, change and accepting who you are. This unique twist on a zombie TV show is a must see for mature audiences.