Review of "Bohemian Rhapsody" movie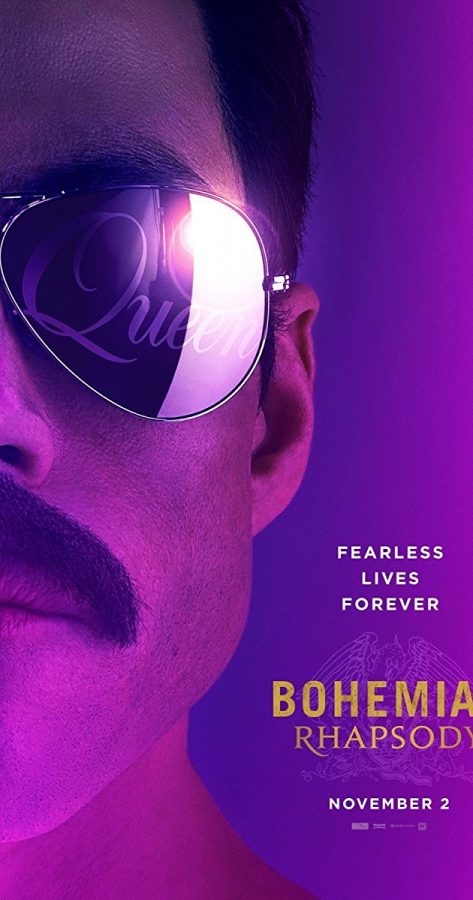 The crowd roars wildly as they see their favorite band on stage together for the first time in years. The 1.5 billion people watching worldwide witness a heartfelt, spectacular performance by Queen. The scene is emotional, for it might be Freddie Mercury's last live show.
  "Bohemian Rhapsody," the movie, which was released this past November, brings light to many important and controversial topics such as AIDS, sexual identity, and alcoholism.
  Mercury, born Farrokh Bulsara, grew up in Great Britain and later attended Ealing College of Art, upon the dismay of his father, who did not support his artistic journey for most of the movie. In the film, it was there that he met his wife Mary Austin and future band members Roger Taylor and Brian May. The band played at the local college pub, and eventually, they performed locally and recorded an album.
  It wasn't until they recorded arguably one of their most famous songs "Bohemian Rhapsody" that their popularity exploded in the music industry. In the movie, their record dealer Ray Foster, who doesn't actually exist, refuses to release the song because it's too long. After they quit the record label and the song becomes a tremendous hit, director Bryan Singer includes a hilarious clip of Foster sitting in his office, broke, mourning over his missed opportunity.
  As the movie progresses, Mercury undergoes some serious life crises. His wife Mary leaves him after he realizes that he's gay, something that was not widely accepted in the time, especially because of the AIDS outbreak. Furthermore, Mercury also suffers from alcoholism, as shown by a growing collection of various empty alcohol products throughout his house. Among other things, the singer-songwriter's career suffers after he leaves the band Queen, and he learns that his partner and manager Paul Prenter betrays him by not telling him about Live Aid. Live Aid was a charity concert in England and Philadelphia to raise money for the Ethiopians living in famine.
  Mercury leaves the back-stabbing Prenter and reunites with Queen once again to play in the Live Aid concert. However, right before they start rehearsals, Mercury is diagnosed with AIDS, a disease for which there is no cure. He proceeds in the days following to muster the courage to tell his fellow band-mates that he's "got it." He's got AIDS, which means he doesn't know how much time he has left to live, but, in a very Freddie Mercury way, he dramatically tells them he wants to spend his last years doing what he loves—making music.
  Although this scene never happened in real life and in reality Mercury was not diagnosed with AIDS until after Live Aid, it makes for a very emotional ending. Queen performs a heartfelt, exciting routine at the Wembley Stadium for the thousands of fans in the crowd and for the millions watching at home.
  Mercury lived the last years of his life with his family and his partner Jim Hutton and sadly died on November 24, 1991, of AIDS-related pneumonia.
  "Bohemian Rhapsody" was a revival of rock culture for millennials to first experience and for Queen's generation to remember once again, as the song hit Billboard's Hot 100 for the third time since its release in 1977. The Golden Globe-nominated film, with its ups and downs, laughter and tears, took the audience on a ride to see what life was like as an emerging Tanzanian-born singer-songwriter who was just trying to figure out who he was and where he belonged in this world.