Nurse rolls out new accessibility rules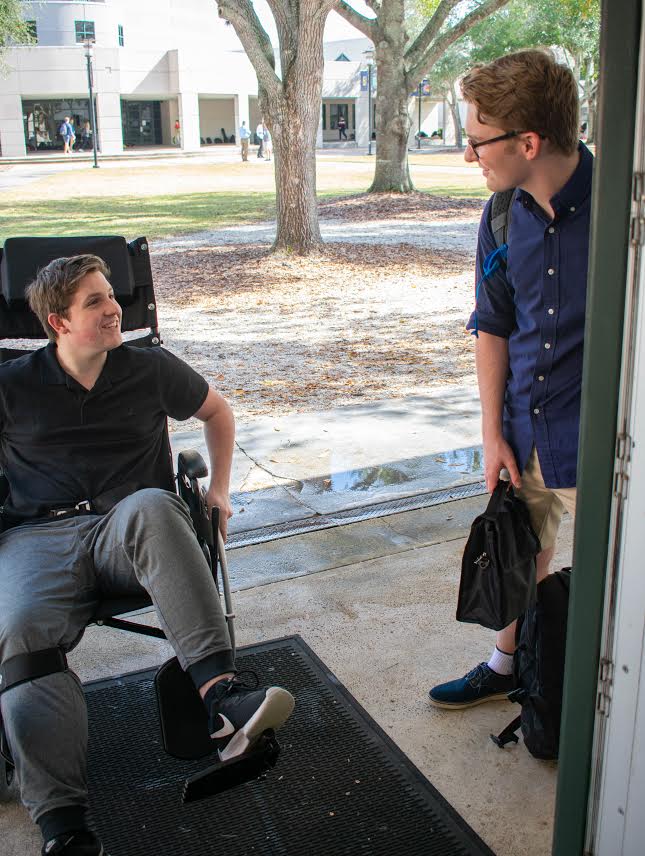 As the dismissal bell rings for upper school assembly, students scramble to get into the auditorium. However, to get into the auditorium from his math class in Stewart Hall, sophomore Thomas Lightsey must wheel himself around the entire Quad to go up the ramp on the side of Brokaw Hall. 
   Nurse Kelly White recently created a set of guidelines to help facilitate communication between parents, students and teachers. Approved by Middle School Principal Jason Dowdy and Upper School Principal Patrick Mulloy, the guidelines were announced on Jan. 18 in a notice in Notes from the Quad. 
   The guidelines mainly focus on the communication between the nurse and parent of the injured student, as a parent/guardian must report any injuries that require assistive devices. White states that all students with an injury must visit the clinic the first morning back at school for a quick check up on pain management and the usage of medical devices. Whether it's assigning buddies to hold backpacks or accommodating to an appropriate dress code, White hopes to aid the injured students in all inconveniences. 
   "There are guidelines to guide communication between parents and me, which will then be passed onto to teachers that will also enhance the safety of using [medical] devices," White said. 
   Science teacher Scottie Smith has also been checked by nurse White after her recent knee surgery, as she has been using a walker and cane to get around campus. Smith said that she wasn't supposed to show up for work until two weeks after the second semester had started. However, Smith knew that everyone would be willingly helpful on campus and decided to go back to work earlier.
   "Everybody has been fantastic: the students, the teachers, the staff, the Grille staff," Smith said. "Everybody has been more than accommodating." 
   Lightsey is also recovering from a recent hip surgery and has been in a wheelchair since the week of midterms. Thomas claims that while all of his friends are very helpful, there are some students who aren't as accommodating.
   "Walking to classes while [looking] down on your phone is part of Trinity Prep culture," Lightsey said. "When I'm walking, I'm guilty of it too. So there are some people who will still keep walking toward me and I would have to swerve." 
   While Lightsey finds the layout of Trinity's campus "doable" to navigate in a wheelchair, it's not ideal. Lightsey claims that to get to the auditorium from his classes in Holloway, he must circle around the quad where there are ramps near the Maughan Administration Center and Brokhaw Hall. 
   Although Lightsey is in a wheelchair, he is still committed to the three upcoming shows he will be performing in this semester. Thomas states that being in a wheelchair doesn't impede his theater practices, or his learning that much. 
   "Besides laying back and wanting to fall asleep, I don't think the [wheelchair] has been inhibiting my learning," Lightsey said.