Merry Microagressions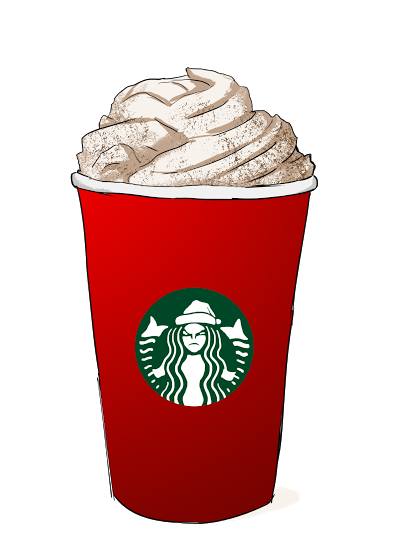 Hang on for a minute...we're trying to find some more stories you might like.
   As fall makes its way for winter and the craze for Pumpkin Spice Latte turns into obsession for White Chocolate Mocha, we all look forward to the approaching holidays of cold coziness. As the winter days pass—bright Christmas lights, wreaths and snowmen catch our vision. But perhaps most conspicuous of all Christmas decorations is Starbucks's festive and limited time holiday cup. For Starbucks, the annual reveal of its "red cup" signifies the official nearing of the holiday season.
  The first Starbucks holiday cup appeared in 1997 adorned with hand drawn snowflakes, reindeer and a banner reading "Merry Christmas!" Ever since that first cup, the Starbucks holiday cup has become an iconic symbol that people all around the nation look forward to. However, this year the iconic holiday is brewing up controversy as the holiday cup once laden with Christmas decorations is now overly simplistic: an ombre from bright red to dark cranberry… not a single Christmas icon in sight. While some Twitter users have praised the minimalist design, others think the cups are a war on Christmas and Christianity as a whole.
Joshua Feuerstein, who identifies himself as an "American evangelist, Internet and social media personality," posted a video on Facebook that has been shared more than 500,000 times. In the video, Feuerstein says that he told Starbucks baristas that his name was "Merry Christmas" so that they would write the phrase "Merry Christmas" on the plain cup. He even called for a complete nationwide boycott of Starbucks.
The barren cup may be perceived as Starbucks's attempt to lessen the importance of Christmas and Christianity, but that was never the company's intention. Recognized as a place of solace during the winter, Starbucks's holiday cup attempted to be inclusive of all celebrations, but importantly, it tried to be politically correct.
Feuerstein addresses Starbucks's aim to be politically correct and respectful of all religions and holidays. However, he urges Americans to take a stance against political correctness and to remain silent no longer.
A similar occurrence over the political correctness of holiday parties emerged in the University of Tennessee. After the chancellor disclosed a message that advised employees to make sure holiday celebrations weren't Christmas celebrations in disguise, he received instant backfire for essentially doing away with faculty Christmas parties.
Although it is important to remain respectful of all ideas and beliefs in this day and age, it is also important to remember that we all have individual rights to celebrate and carry out our own religions. In America, Christianity may be the most predominant religion, but that doesn't mean that Christmas or other Christian celebrations should be infringed in attempts to be politically correct. Each religion should have the capability of practicing its own beliefs without limitations.
In response to Feuerstein's video, the secular company Starbucks, said, "Our core values as a company are to create a culture of belonging, inclusion and diversity. Each year during the holidays we aim to bring our customers an experience that inspires the spirit of the season and we will continue to embrace and welcome customers from all backgrounds and religions in our stores around the world."

About the Writer
AMBER YANG, Editor-in-Chief
Amber Yang is a senior entering her fourth year on staff. She is currently Editor-in-Chief but has a love for writing controversial pieces for the Opinions...